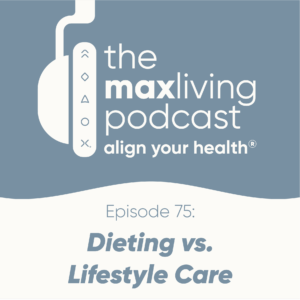 Dieting vs. Lifestyle Care
Today's episode of The MaxLiving Podcast features guest host and former MaxLiving Dr. Blake Livingood. Dr. Blake's father struggled with his health, ultimately leaving him to have open heart surgery, and take 15+ medications daily. After seeing how poor his father's quality of life was getting, Dr. Blake brought him to a MaxLiving doctor and was amazed at the results. His father was able to fish, bike, and most importantly, feel himself again. "The two greatest days of your life are the day you're born and the day you find out why," -Dr. Blake Livingood. Tune in to hear why Dr. Blake now devotes his life to lifestyle care & giving the body what it needs to thrive, over dieting for example.
Dr. Ryan and Ashley Berlin talk to Dr. Blake about the abundance of health information available at our fingertips, but yet there's still a lack of knowledge. Dr. Blake explains that his job is to help people get the right information and apply that knowledge so they can live a healthier life. We tend to overcomplicate health, when in reality health isn't difficult. Just as trees need plenty of water, sunlight, and soil, we need food, water, and a healthy environment. Focus on giving your body what it needs to thrive.
Missed last week's episode of The MaxLiving Podcast? Listen here or tune in on Spotify, Apple Podcasts, & more.
*Please note: the information shared on this podcast are the opinions/views of the hosts.
The contents of The MaxLiving Podcast and website are strictly for educational purposes and are not intended to be a replacement for professional medical advice, diagnosis, or treatment. Never ignore professional medical advice because of something you heard or read on The MaxLiving Podcast or website. If you have a medical emergency, call your doctor or 911 immediately.
Chiropractic Resources