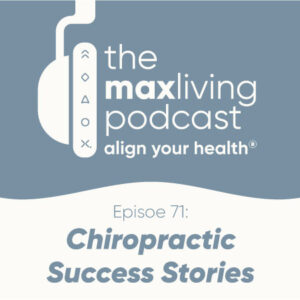 Chiropractic Success Stories
If you ask the average person what chiropractic can help with, they'd say back and neck pain, but that's far from all. Our MaxLiving offices have transformed thousands of patients' lives by finding the root cause of their problem, rather than temporary solutions. By performing specific chiropractic adjustments, we can help restore the body's natural ability to heal so you can feel and function at 100%. In today's special episode of The MaxLiving Podcast, hosts Dr. Ryan and Ashley Berlin share a few of their patient's chiropractic success stories. Tune in to hear their incredible and inspiring transformations which include reduced anxiety, regulated blood pressure, improved gut health, and more!
If the stories you heard today reminded you of someone you know, share this episode with them! It can be difficult to navigate health challenges but we want you to know you're not alone. There's no better time to make a change in your health, than right now. Find a MaxLiving doctor near you to get started today: maxliving.com/locations.
Want more of The MaxLiving Podcast? New episodes drop every Tuesday on Spotify, Apple Podcasts, & more.
The contents of The MaxLiving Podcast and website are strictly for educational purposes and are not intended to be a replacement for professional medical advice, diagnosis, or treatment. Never ignore professional medical advice because of something you heard or read on The MaxLiving Podcast or website. If you have a medical emergency, call your doctor or 911 immediately.
Chiropractic Resources