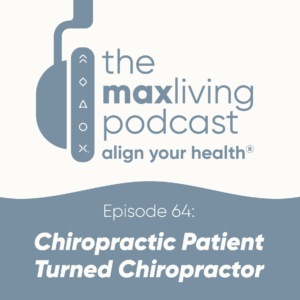 Chiropractic Patient Turned Chiropractor
In today's episode of The MaxLiving Podcast, Dr. Ryan Berlin sits down with his brother Dr. Justin Berlin to discuss how becoming a chiropractic patient inspired him to become a chiropractor.
Like many other families in the U.S., the Berlin brothers received care from the medical model. After multiple rounds of medications, procedures, etc. failed to help, their parents decided to try a more natural approach to healing with chiropractic care. Dr. Justin explains the first time he realized the incredible power chiropractic care had on the body was when it helped him heal from two major injuries in high school. This inspired him to pursue chiropractic where he went on to receive his degree from Palmer College of Chiropractic in Iowa. Since then, he's practiced chiropractic in Troy, Michigan for 17 years.
Dr. Justin urges anyone listening to invest in chiropractic care now to correct and prevent health problems from worsening in the future. He explains that if you're a current chiropractic patient who hasn't experienced major changes, to be consistent. Lastly, Dr. Justin and Dr. Ryan stress to share your chiropractic journey with others in an effort to change their lives for the better.
Be sure to tune in next Tuesday on Apple Podcast, Spotify, & more to hear a brand new episode of The MaxLiving Podcast!
*Please note: the information shared on this podcast are the opinions/views of the hosts.
The contents of The MaxLiving Podcast and website are strictly for educational purposes and are not intended to be a replacement for professional medical advice, diagnosis, or treatment. Never ignore professional medical advice because of something you heard or read on The MaxLiving Podcast or website. If you have a medical emergency, call your doctor or 911 immediately.
Chiropractic Resources