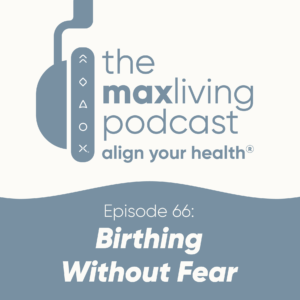 Birthing Without Fear
Although childbirth is an incredibly rewarding and emotional experience, there's a lot of fear associated with it. Whether you're worried about the pain, how long it will take, if everything will go smoothly etc., the unknown can be overwhelming. In today's episode of The MaxLiving Podcast, Ashley Berlin sits down with her sister-in-law, Erin Berlin to discuss birthing without fear. Tune in to hear the experienced moms explain the difference between a natural birth vs. hospital birth, having a positive mindset throughout the experience, advice & more.
When it comes to giving birth, most people picture it happening in a hospital, but that isn't the only option. Natural births (or home births) are a holistic alternative and usually occur in the mother's home. "It's important for women to feel safe when they are giving birth," says Erin. Whether you feel most comfortable having doctors around in a hospital, or having a midwife in your home, that's completely up to you. Erin explains she was planning on having her child in the hospital until she watched her friend have a home birth. After seeing how peaceful the whole process was, Erin decided to have all 3 of her child's births at home.
One of the most important factors when it comes to the success of your child's birth has to do with your mindset. There are a lot of times during birth that your plan doesn't go the way you had hoped, and what you need to remember is that's completely normal! Rather than focusing on the negatives, focus on the positives! Your body was designed to reproduce and go through this process. At the end of it you will have the best reward, a beautiful baby – so cherish the moment. You CAN do this!
Be sure to share this episode with your friends or loved ones who are either pregnant or wanting to have children in the future. For more holistic health content, listen to previous episodes of The MaxLiving Podcast on Apple Podcasts, Spotify, & more!
Chiropractic Resources