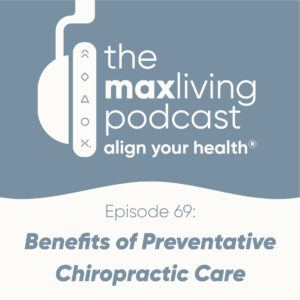 Benefits of Preventative Chiropractic Care
You know what they say, an ounce of prevention is worth a pound of cure. When it comes to your health, the same rules apply. If you don't put time and effort into preventing health issues from occurring now, you'll end up having to put in more time, money, and effort later when your health declines. Tune in to today's new episode of The MaxLiving Podcast to learn the benefits of preventative chiropractic care.
You may be thinking, "I'm a relatively healthy person, I don't need to do anything to protect my health, right?" Wrong! Most health conditions form for a while before showing initial symptoms, which is why preventative care is so important. Dr. Ryan and Ashley explain that chiropractic care and the 5 Essentials should be your first step when being proactive about your health.
Learn more about the 5 Essentials® here.
If you enjoyed today's episode, be sure to give us a rating on Spotify, Apple Podcasts, & more!
Chiropractic Resources