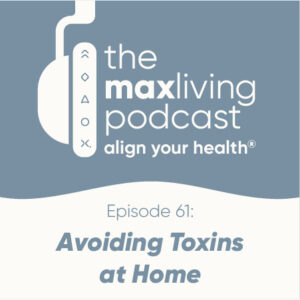 Avoiding Toxins at Home
You can workout everyday, eat healthy, get adjusted, have a positive mindset and still have trouble overcoming your health problems due to toxin exposure. From the time you wake up, brush your teeth, take a shower, clean the kitchen, etc. you've encountered countless dangerous chemicals that could damage your health. In today's episode of The MaxLiving Podcast, Dr. Ryan and Ashley Berlin discuss avoiding toxins at home.
Dr. Ryan says the most toxic places in your house are most likely the bathroom, kitchen, and laundry room, and that's not because of what goes on in those rooms. Many cleaning products such as air freshener, toilet bowl cleaner, wipes, etc. contain harmful toxins that can negatively affect your health. Rather than replacing your current cleaning products all at once, start one room at a time. If you're in the kitchen, replace your hand and dish soap first, then go deeper to assess what you're spraying on the countertop. After conquering the kitchen, move on to the next room.
Ashley's holy grail non-toxic cleaning products are baking soda, hydrogen peroxide, and white vinegar. Not only are these products cheaper than status quo cleaning products, but they're also safer for your body too.
If you're worried about your previous exposure to toxins and want to detoxify your body, be sure to check out Detox System and Max Cleanse. Tune in next Tuesday for a new episode of The MaxLiving Podcast on Apple Podcasts, Spotify & more!
*Please note: the information shared on this podcast are the opinions/views of the hosts.
The contents of The MaxLiving Podcast and website are strictly for educational purposes and are not intended to be a replacement for professional medical advice, diagnosis, or treatment. Never ignore professional medical advice because of something you heard or read on The MaxLiving Podcast or website. If you have a medical emergency, call your doctor or 911 immediately.
Chiropractic Resources