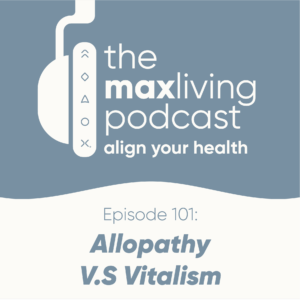 Allopathy vs. Vitalism
To close out Season 2 of The MaxLiving Podcast, hosts Dr. Ryan & Ashley Berlin discuss the importance of understanding the principles of health, specifically allopathy vs. vitalism. Allopathy is composed of mostly western medicine and believes in more of an outside-in approach to health. For example, in order to get healthy, you have to treat a certain condition. Vitalism on the other hand is a more natural approach where health is something that you already have inside of you. The purpose in sharing the difference between these two health principles is so you have the information you need to make informed healthy decisions for you and your family.
Throughout the episode, the Berlin's explained the 4 tenants of allopathy and how they differ from vitalism. They also explain the importance of getting to the root cause of your health problems with the help of the 5 Essentials: core chiropractic, mindset, nutrition, oxygen & exercise, and minimizing toxins.
Thank you for tuning in to Season 2 of The MaxLiving Podcast! Keep the momentum going by checking out our earlier episodes, and stay in the loop by following us on social media for details on Season 3.
*Please note: the information shared on this podcast are the opinions/views of the hosts.
The contents of The MaxLiving Podcast and website are strictly for educational purposes and are not intended to be a replacement for professional medical advice, diagnosis, or treatment. Never ignore professional medical advice because of something you heard or read on The MaxLiving Podcast or website. If you have a medical emergency, call your doctor or 911 immediately.
Chiropractic Resources