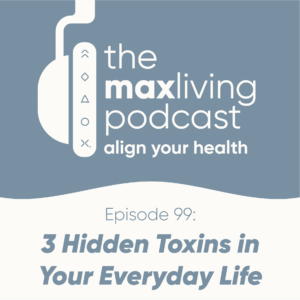 3 Hidden Toxins in Your Everyday Life
Due to the recent toxic spill in Ohio, it's raised concerns for a lot of people about the presence of dangerous chemicals in our environment. Toxins can be found in our food, water, and even the air we breathe causing damage to our health. MaxLiving and the 5 Essentials prioritize minimizing the amount of toxins present, whether through detoxification or by adopting new lifestyle habits to mitigate chemical exposure. In this episode of The MaxLiving Podcast, Dr. Ryan & Ashley Berlin discuss the issue of toxicity and how to avoid it.
In order to live a healthy, toxin-free life, you have to become aware of what toxins you're encountering on an everyday basis. The Berlin's explain the three main culprits of toxicity including pharmaceuticals, processed foods, and chemicals that enter through the skin such as makeup, sunscreen, personal care products, etc. While reducing exposure to these items is a great start, there are other detoxification strategies you can take to further help your body heal and function optimally. One way is to get regular chiropractic adjustments to remove interference in the spine and nervous system. Additionally, you could take supplementation such as MaxLiving Detox System or Max Cleanse to flush out toxins.
During the month of April, our MaxLiving offices across the country will be hosting their own Terminate Toxins event where you can learn more about how you can steer clear of toxins on a daily basis. Reach out to your local MaxLiving location for details and ticket information.
*Please note: the information shared on this podcast are the opinions/views of the hosts.
The contents of The MaxLiving Podcast and website are strictly for educational purposes and are not intended to be a replacement for professional medical advice, diagnosis, or treatment. Never ignore professional medical advice because of something you heard or read on The MaxLiving Podcast or website. If you have a medical emergency, call your doctor or 911 immediately.
Chiropractic Resources