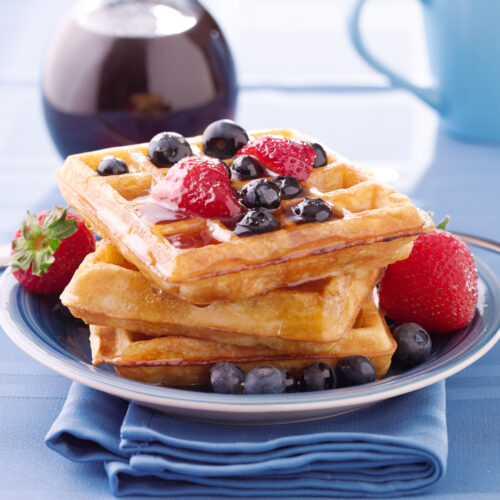 Waffles with Mixed Berries
Looking for a fruity breakfast? These delicious and decadent waffles topped with fresh berries are a great way to start your day.
Ingredients
1⁄4

cup

blanched almond flour

1⁄8

cup

tapioca starch (or arrowroot powder, if preferred)

1⁄8

tbsp

plus 1⁄8 teaspoon baking powder

1⁄2

tbsp

coconut palm sugar

1⁄8

tsp

sea salt

to taste

1

pasture-raised egg

1⁄2

tbsp

coconut oil

melted

1⁄8

cup

coconut milk

1⁄4

tsp

fresh-squeezed lemon juice teaspoon vanilla extract

1⁄2

tbsp

almond butter

(or preferred toppings)

1⁄4

cup

fresh mixed berries of choice (blueberries, strawberries, raspberries, blackberries, etc.)
Instructions
Preheat your waffle iron.

In a mixing bowl, combine all of the ingredients in the order listed (ex-cept for the almond butter and mixed berries) and mix until just barely combined, a few remaining lumps are fine.

Let the waffle batter set at room temperature for 5 minutes

Using a ladle, scoop approximately 1⁄4 cup of the batter (or the amount indicated by the waffle iron's manufacturer) onto your hot waffle iron.

Cook the waffles according to the manufacturer directions for your particular waffle iron or for 4-6 minutes or until preferred doneness/ crispiness is reached.

Place the 2 waffles on a serving plate, add on the almond butter or desired toppings and then top the waffles with the fresh mixed berries.

Note: For super-quick breakfasts, make a large batch of waffles and freeze them.

Then, just pull them out of the freezer and place in the toaster or toaster oven to reheat.