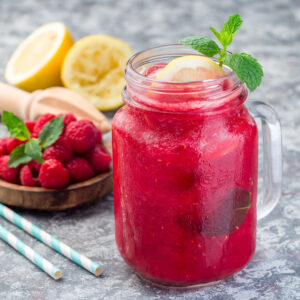 Sparkling Raspberry Lemonade
Perfect for summertime — or any time of the year — this lemonade is an easy and delicious party drink that will be a hit with both children and adults. This refreshing, flavorful mix is sweetened with xylitol so you can relax and enjoy your favorite summer drink worry-free!
Ingredients
12

ounce

package frozen unsweetened raspberries (about 3 cups)

1

cup

xylitol

1⁄2

cup

water

1 1⁄2

tbsp

grated lemon peel

1

cup

fresh lemon juice

1

liter bottle chilled sparkling water

or club soda

ice cubes

fresh raspberries

(optional)

lemon slices
Instructions
Combine frozen raspberries, xylitol, and 1⁄2 cup water in medium saucepan.

Stir over medium heat until xylitol dissolves and berries thaws and boil 3 minutes.

Strain raspberry mixture into bowl, pressing on solids to extract as much liquid as possible.

Discard solids in strainer.

Mix lemon peel into raspberry syrup in bowl.

Stir raspberry syrup, lemon juice, and sparkling water in large pitcher to blend.

Fill 6 glasses with ice cubes.

Pour raspberry lemonade into glasses.

Add fresh raspberries to each glass, if desired.

Garnish with lemon slices and serve.