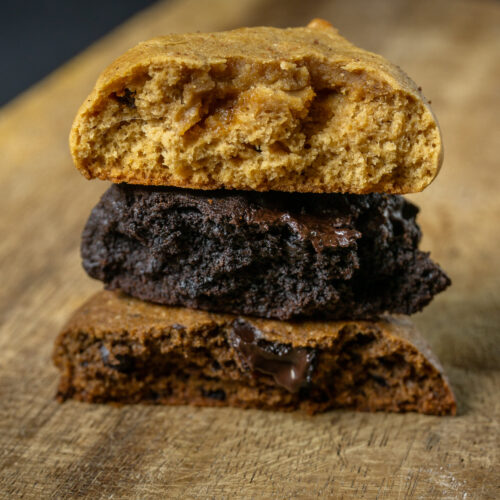 Gooey Chocolate Chip Cookies
This Cost-Conscious chocolate chip cookie recipe makes 3 dozen cookies for less than $5, as it uses many ingredients remaining from other dishes that are common pantry items, such as leftover coconut and almond flours, grass-fed butter, stevia, eggs, etc. Bonus: these cookies store amazingly well in the freezer so just pull some out when ready to serve!
Ingredients
3

cups

blanched almond flour

1

tbsp

coconut flour

1

tsp

sea salt

3⁄4

tsp

baking soda

1⁄2

tsp

baking powder

1⁄2

cup

grass-fed butter, melted

1⁄4

tbsp

Stevia powder extract (or 8-10 Stevia packets)

1⁄2-1

tsp

Xylitol

2

large pasture-raised eggs, room temperature

1 1⁄2

tbsp

pure vanilla extract

10

ounces

(1 package) vegan semi-sweet chocolate chips (Enjoy Life or preferred brand)
Instructions
Combine the blanched almond flour, coconut flour, salt, baking soda, and baking powder and whisk until well blended; set aside.

In a food processor, combine melted grass-fed butter and Stevia.

Process mixture for one minute or until the contents are blended well.

Next, add in the Xylitol, eggs, and vanilla extract.

Process until smooth and creamy.

Add the flour mixture, and process in food processor, until dough is completely blended and smooth.

Transfer the dough to a mixing bowl, and then fold in the chocolate chips, using a wooden spoon.

When the chocolate chips are well incorporated, set the cookie dough aside to rest, at room temperature, for 15 minutes.

The dough will become more solid and easier to work with as it rests.

Preheat the oven to 350°F.

Arrange the oven racks in the center of the oven.

Line 2-3 baking sheets with parchment paper.

Using a tablespoon, scoop out a rounded tablespoon of the dough, and drop it onto the parchment-lined baking sheet.

Repeat until all the dough has been used up, placing them about 1-2 inches apart on the baking sheets.

Place the cookies in the oven, and bake for 10-12 minutes or until the edges/bottom of the cookies are golden brown and the centers appear slightly uncooked, puffy, and slightly crackled.

Be careful not to let the cookies bake for more than 12 minutes, or they will become too dry and hard.

Remove the cookies from the oven, and let cool for 5-10 minutes on the baking sheets.

Then transfer to wire racks to cool completely.

Serve cookies immediately, or keep them stored in an airtight container at room temperature or in the freezer.