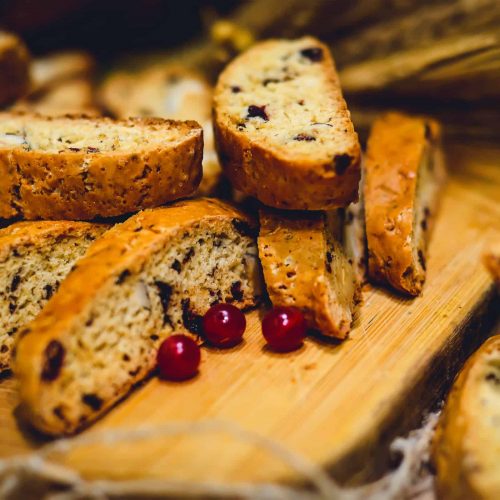 Cranberry Chocolate Biscotti
This recipe has super simple ingredients that rival their less healthy counterparts. These are great served with hot green tea and work great for breakfast or for a snack. Make it a healthy sweeter treat by adding a sugar-free chocolate drizzle or dip!
Ingredients
¼

cup

coconut oil

melted

2

large organic eggs

cage-free

1

tbsp

vanilla extract

3

cups

almond flour

½

cup

erythritol

(like Swerve)

¼

tsp

sea salt

1

tsp

baking soda

½

cup

dried cranberries (or cherries)

unsweetened

1

bar

chocolate bar

stevia sweetened, (chopped)
Optional
½

cup

sliced almonds

(or chopped pecans)

1

bar

chocolate bar

stevia sweetened, (chopped)
Instructions
Preheat the oven to 350° F.

Line a large baking sheet with parchment paper or a silicone baking mat.

In a large bowl, combine the oil, eggs and vanilla with a hand mixer for 2-3 minutes.

In a separate bowl, mix the almond flour, sweetener, salt, and baking soda.

Stir the wet mixture into the dry slowly until well combined.

Fold in the cranberries, chocolate, and nuts if desired.

Split the dough in two halves and form into two logs (about 9 inches by 2 inches).

Bake for about 18 minutes or until lightly browned around the edges.

Let the logs cool for at least 1 hour then cut into slices (about 1/2 inch thick – too thin and they will fall apart) with a sharp serrated knife.

Return the sliced biscotti to the baking sheets laying on their sides and bake for an additional 15 minutes, turning halfway through.

Let cool and serve.
Optional Chocolate Dip or Drizzle
Take the second chopped chocolate bar and melt in a bowl/pan.

(Hint: Place water in the bottom of a double boiler so the top of the water is 1/2 inch below the upper bowl/pan. Then, place chopped chocolate in the top bowl/pan, and rest the top bowl/pan on top of the pot of hot water. Do not boil the water in the bottom, but heat on medium-low. This double boiler prevents chocolate from burning.)

Use a spoon to drizzle the chocolate on top of the biscotti, or use a shallow pan or dish to dip the biscotti bottoms in chocolate.

After adding a drizzle or dip, place on a parchment lined pan, and refrigerate at least 20 minutes, or until chocolate re-hardens.