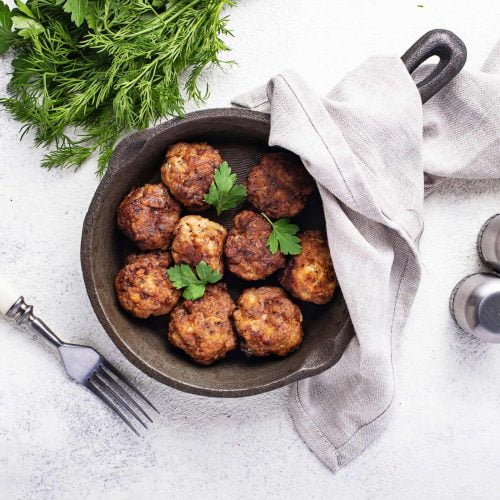 Bread-less Swedish Meatballs
When your kids want Swedish Meatballs, make them grain-free with almond flour. Plus, almond flour adds healthy protein, without adding sugars.
Ingredients
2

lbs

grass-fed ground beef

1

cup

organic chicken broth

1

organic egg

1

organic egg yolk

¼

cup

almond meal

1

tsp

dried parsley

¼

large onion grated

½

tsp

sea salt

⅛

tsp

black pepper

⅛

tsp

fresh ground nutmeg

(hint: keep them in the freezer and grate them with a microplane, if you can)

2

tbsp

coconut oil
Instructions
Mix ground beef, egg, egg yolk, almond meal, parsley, onion, salt, pepper and nutmeg well. Then, shape into 1″ balls.

Heat up coconut oil in a non-toxic skillet, until hot.

Fry meatballs in batches (don't crowd the pan) until almost cooked through, then remove and place on the side until all meatballs are browned.

After all batches are browned, transfer them all back into the skillet, and add 1 cup (or more) of organic chicken broth.

Finish cooking the meatballs (about 4-8 minutes) and serve warm.
Saving and Reheating:
To freeze, line a large ziploc bag with parchment paper and place meatballs inside.

To re-heat, let meatballs thaw slightly and transfer to a skillet to reheat. (You can add additional organic stock if it is not "saucy" enough or to keep the meatballs from drying out.)