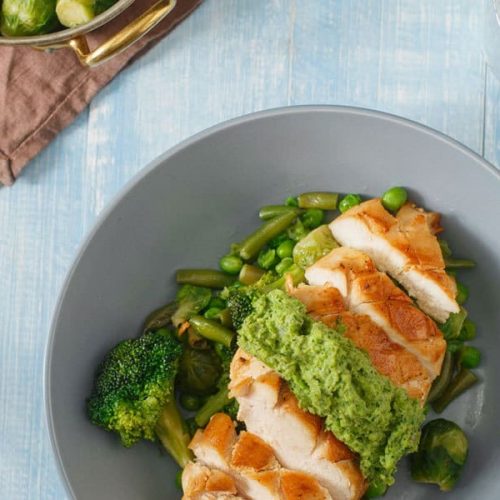 Oven Baked Pesto Chicken Recipe
This tasty pesto chicken is a quick and easy dinner recipe with tremendous flavor. For the pesto sauce in this easy chicken recipe, you can use either homemade or store bought. Just make sure that any store bought version is made with olive oil and not any damaged oils. You'll love this easy pesto chicken that's great for both family dinner or dinner parties. Serve with your favorite salad and side dish.
Core Plan approved
Advanced Plan approved
Ingredients
1

lb

organic chicken breasts

(~3 breasts/lb)

3-6

tbsp

pesto sauce

4

roma tomatoes

sliced

Sea salt and ground black pepper

to taste

Shaved parmesan cheese

optional

Sliced black olives

optional
Instructions
Trim any excess fat from the chicken and place between pieces of parchment paper.

Pound chicken to even thickness (approximately ½ inch) with a meat mallet.

Sprinkle both sides with salt and pepper and transfer to a baking dish. Ensure the chicken fits snugly for best cooking with not a lot of extra space in the pan.

Spread pesto sauce over the top of the chicken breasts and cook for about 20 minutes, then add the sliced tomatoes and parmesan cheese, if desired.

Continue cooking until chicken is cooked through (about 15–20 additional minutes). Add sliced olives as garnish, if desired, and serve.