The Purpose of an Adjustment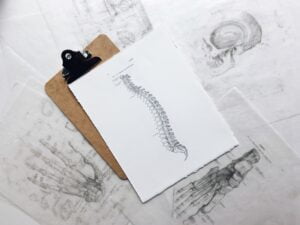 Through all of September our "essential of the month" is chiropractic.  It is a fitting month for it because 125 years ago this month (on Sept 18th) the first adjustment was given and chiropractic was born.  This week our chiropractic word is "adjustment" so I thought we should answer the question, "what is purpose of an adjustment?"
The first adjustment was given to a man name Harvey Lillard.  He was a janitor who had lost his hearing many years prior.  He was seeing a holistic healer named D.D. Palmer for an unrelated matter.  As DD was examining Mr. Lillard he saw what he described as "a bone out of place."  I'm not sure how he did it but DD convinced Harvey to let him put the bone back! Right away, Harvey said that he could hear better!  So he came back a few more times and within a month his hearing was restored back to normal.  So, the purpose of the first adjustment was simply to put a bone back where it should be.  With the results, DD Palmer thought he had discovered a cure for hearing loss!  So he set out adjusting the deaf and near deaf with the purpose of restoring hearing.
Luckily DD was a very knowledgeable and detailed person.  He studied human anatomy and philology his entire life.  He was intrigued by what he had found and documented every "adjustment" to a T.  What he found was that as he was adjusting for hearing loss that other aliments began to improve.  Digestive issues reversed, heart troubles and high blood pressure resolved, "asthmatics" could breathe freely once again, even patients of his who came in with fevers and infections rapidly improved following their adjustments.  He thought he had found a miracle of the human body that through an "adjustment" he could heal anyone of any ailment!  Thus his purpose became to heal the sick.
DD began teaching his new healing art.  He started the Palmer school of Chiropractic just 2 years later.  One of his earliest (and best) students was his son, BJ Palmer.  BJ wasn't convinced of the healing miracles of an adjustment.  He started a lifelong endeavor to research and unveil exactly what an adjustment was.  He was one of the early pioneers who mapped and unfolded the central nervous system and the responsibilities of the spine.  He found that much like the skull which protects the brain, the spine's job is to protect the spinal cord and that every nerve in the body exits through the spine.  His research proved that when a bone in the spine is "out of place" it affects that nerve and wherever that nerve goes begins to malfunction.  When your body is malfunctioning it absolutely cannot be healing and building health the way it is designed.  He called this complex a "subluxation." He then proved that when you "adjust" the subluxation, putting the bone back in its proper position, it removes the interference to the nerve thus restoring the body back to full function and healing!
BJ had discovered the true purpose of an adjustment.  He found that the purpose is not to restore hearing, reverse disease, or even take away pain!  While those are often happy byproducts, the true purpose of the adjustment is to remove subluxations, enabling the body to return to proper function and thus heal.
In Health,
-Dr. Marc Nickens
For more information or if you would like to schedule an appointment to come into our office give us a call at 719-419-7955
Northgate Family Chiropractic 
12245 Voyager Parkway suite124 
Colorado Springs, CO