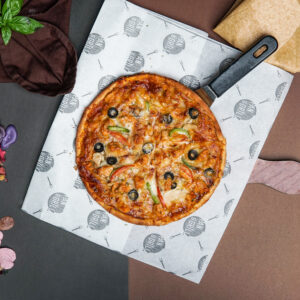 Cauliflower Crust Veggie Pizza
Ingredients
2

cups

Cauliflower florets

1/2

cup

Shredded mozzarella cheese

1

Egg

1

tbsp

Olive Oil

1/2

cup

tomato sauce mixed with 1/2 tsp Italian seasoning, 1/2 tsp minced garlic, and 1/2 tsp sea salt

1/2

cup

Mushrooms

1/2

cup

Sliced olives
Instructions
Preheat oven to 425 degrees.

Grease cookie sheet with butter or coconut oil.

Grate the cauliflower with a cheese grater.

Place in water in a stainless steel pan and cook for 12 minutes.

Drain and mix together the grated cauliflower, egg, and half of the cheese.

Transfer to the cookie sheet, and using your hands, pat out into a round about 1/4" thick. 

Brush olive oil over top of crust.

Bake for 15 minutes. Remove from oven.

Add tomato sauce, remaining cheese, mushrooms, and olives.

Return to oven for 5–10 minutes, just until cheese is melted.