Bammert Family Chiropractic
We believe that being a MaxLiving chiropractor is more than someone who just helps people feel healthy. Through high-quality chiropractic and corrective care, combined with the 5 Essentials™, we're here to empower patients with both knowledge and healing. Trust that your health is in expert hands.
Adult Patient Paperwork
Pediatric Patient Paperwork
NEW PATIENT
SPECIAL
FREE CONSULTATION
Hours of Operation
Monday:

8:00 am – 10:30 am 3:00 pm – 6:00 pm

Tuesday:

11:00 am – 2:00 pm

Wednesday:

8:00 am – 10:30 am 3:00 pm – 6:00 pm

Thursday:

3:00 pm – 6:00 pm

Friday:

8:00 am – 11:00 am

Saturday:

Closed

Sunday:

Closed
About
Bammert Family Chiropractic – Champlin, MN
Meet The Team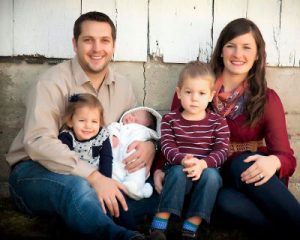 Dr. Charlie Bammert
Education: Logan University
Dr. Charlie Bammert has been serving Champlin since 2009, and in the past eight years has now become one of the largest clinics in the metro area, helping hundreds of people each week ranging from just hours old to ninety-two!
Growing up, Dr. Charlie spent his entire childhood visiting doctors getting treated for numerous conditions. His health problems literally started from the moment he was born, after surviving an adverse reaction to medication his mother was prescribed while in labor. By the time Dr. Charlie was a teenager he was taking six separate medications daily to treat his chronic health issues. Sadly he was on the road that so many people are relegated to; a lifetime of drugs and surgeries to mask symptoms, that is, until a family friend recommended he see her chiropractor. It was at this moment when his life was changed by chiropractic, at the age of seventeen when he received his first adjustment.
Determined to start his own practice as quickly as possible, he spent three years at NDSU before starting chiropractic school at Logan University in Chesterfield, MO. Upon graduation in 2008, he and his wife Jaclyn moved to Naples, FL for an internship in one of the largest chiropractic offices in the country.
After completing his internship, they moved back to Minnesota to open a Maximized Living Health Center in Champlin. MaxLiving's health delivery system is not an alternative. It is a proven, medication-free way of approaching your health, your healthcare and your lifestyle. Powered by hundreds of dedicated chiropractors, the MaxLiving system targets and eliminates the root of your health problems and helps ensure that you know how to make life-long wellness changes.
Blog
Reviews
This clinic is owned and operated by Bammert Family Chiropractic, a MaxLiving
Health Center