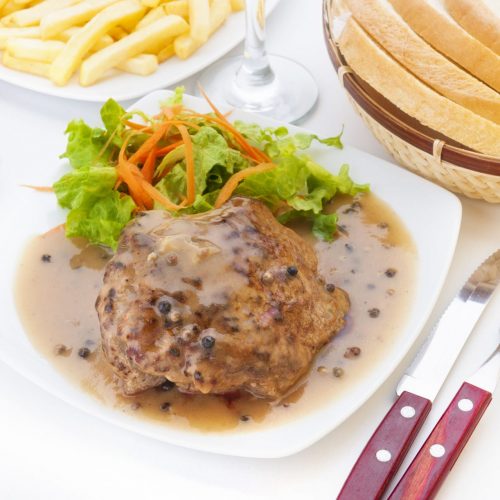 Grass-fed Steaks with Creamy Peppercorn Sauce
Grass fed beef steaks are a culinary delight. They are far superior to conventional beef – in nutrition, in taste, and for the environment. This is a great alternative to grilling steaks outside and the sauce is outstanding. It makes for a beautiful presentation so it would be perfect for guests.
Sprinkle both sides of the steak with salt and crushed peppercorns.

Press the peppercorns into the steaks.

In a large, heavy non-toxic skillet (cast iron works best), melt the butter and avocado oil (do not let the butter smoke).

Cook steaks until desired doneness. A 6 oz steak will typically take about 3 minutes on each side. When done, transfer to a dish and cover.

Add a little more oil if necessary and cook shallot until soft (a minute or two).

Add the remaining butter and melt then pour in the broth and let cook for another minute.

Add heavy cream and stir frequently until reduced to a thick sauce (6-7 minutes).

Add a pinch or two of sea salt and taste for appropriate seasoning. Return steaks (and any juices that escaped) back into the skillet and cover well with sauce. Serve with any remaining sauce.
Grass fed beef is best cooked rare – medium rare.
Great served with mashed cauliflower and oven roasted broccoli.