Aging can create many physical changes, including wrinkles and muscle loss, that impact us all. At the same time, men and women age in specific ways. Women, for instance, develop more and deeper wrinkles than men.[1]
One study found that around age 50, the aging process shows more prevalently in women's faces.[2] Menopause, when the levels of hormones such as estrogen fluctuate, likely contributes to this condition.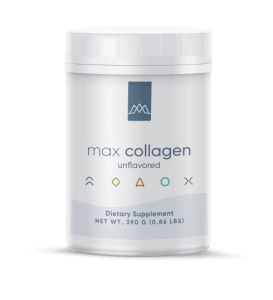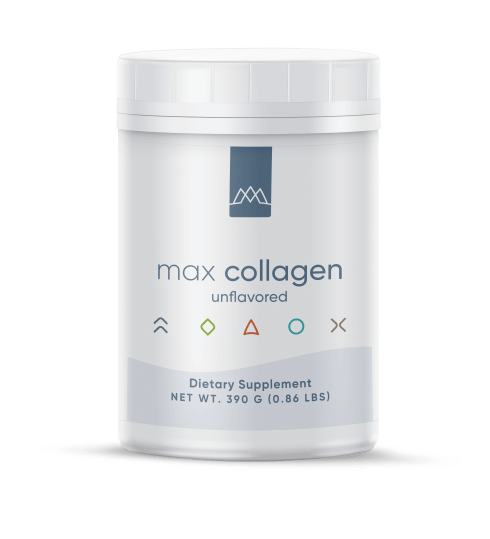 As you age, you also lose collagen, the body's most abundant protein. Collagen provides structure to your skin but also bones, muscles, ligaments, and tendons. Studies show that combined with resistance training, supplementing with collagen powder could reduce the muscle loss that can occur with age.[3]
Age-related muscle loss, called sarcopenia, can begin after 30. At that age, you can lose three to five percent of your muscle every decade.
Overall, men lose more muscle mass than women as they age.[4] Over his lifetime, a man may lose 30 percent of his muscle mass.[5]  Muscle loss can decrease mobility while increasing your risk for fractures and falls.
Regardless of gender, you have plenty of control over these and other conditions. With the right approach, you don't need to accept problems like wrinkles and weaker muscles as you age.
4 Factors that Accelerate the Aging Process
Underlying problems such as wrinkles and muscle loss are four factors that contribute to aging and most age-related disease:
The good news is that how you eat, think, move, and relax can significantly reduce the impact of these factors.
7 Ways to Fight Aging
With a healthy aging mindset, you never need to settle with the ravishes that can occur as you grow older. These seven strategies will keep your skin glowing, your mind sharp and alert, and your body strong and vibrant at any age.
Max Collagen. Each serving supplies the body with 12.5 grams of collagen peptides from Fortigel®, Verisol® and Fortibone®, which are highly-researched and produced with cutting-edge technology that supports healthy bones, skin, muscles, and tendons.
Hair, Skin, & Nails. This comprehensive formula of vitamins, minerals, amino acids, and botanicals provides all the necessary building blocks to keep your hair, skin, and nails healthy.
Broccoli Blend. Sulforaphane, a nutrient found in cruciferous vegetables, provides powerful antioxidant, anti-inflammatory, and anti-aging properties.[15] Our formula contains a combination of broccoli seed extract and broccoli sprout concentrate to provide sulforaphane glucosinolate (SGS) and the myrosinase (MYR) enzyme for maximum bioavailability and absorption.
Probiotics 50B. Gut health can decline with age, creating hormone imbalances and more. [16] A probiotic supplement can restore and support gut balance.[17] Formulated with 10 of the most highly-researched probiotic strains, MaxLiving Probiotic 50B features delayed-release technology for the proper timing of the release of the probiotics into the lower gastrointestinal tract and offers a strong adherence to intestinal epithelial and mucosal walls.
Curcumin C3®. Curcumin C3® complex is anti-inflammatory and antioxidant formula containing highly absorbable turmeric extract standardized to 95% curcuminoids and BioPerine® black pepper extract standardized to 95% piperine, which enhances bioavailability and absorption.


References
[1] https://academic.oup.com/asj/article/29/6/467/210050
[2] https://pubmed.ncbi.nlm.nih.gov/31189026/
[3] https://www.ncbi.nlm.nih.gov/pmc/articles/PMC4594048/
[4] https://www.ncbi.nlm.nih.gov/pmc/articles/PMC3874224/
[5] https://www.health.harvard.edu/staying-healthy/preserve-your-muscle-mass
[6] https://www.ncbi.nlm.nih.gov/pmc/articles/PMC5927356/
[7] https://www.sciencedaily.com/releases/2009/03/090305204328.htm
[8] https://www.ncbi.nlm.nih.gov/pmc/articles/PMC5643203/
[9] https://www.health.harvard.edu/aging/how-stress-affects-seniors-and-how-to-manage-it
[10] https://www.webmd.com/balance/news/20041129/chronic-stress-may-make-cells-age-faster#1
[11] https://eurekalert.org/pub_releases/2020-01/lu-shi012920.php
[12] https://www.ncbi.nlm.nih.gov/pmc/articles/PMC4340807/
[13] https://www.ncbi.nlm.nih.gov/pmc/articles/PMC5810920/
[14] https://www.ncbi.nlm.nih.gov/pmc/articles/PMC3306193/
[15] https://www.ncbi.nlm.nih.gov/pmc/articles/PMC6885086/
[16] https://www.ncbi.nlm.nih.gov/pmc/articles/PMC6004897/