Texas Sunset Family Chiropractic
Texas Sunset Family Chiropractic is a MaxLiving Health Center in North Denton. We strive to empower our patients and entire community to rise into health and wellness.
It's not just chiropractic that makes you healthy. We believe that through the five essentials of MaxLiving we can empower others to live life the fullest.
Our essentials are; Core Chiropractic, Mindset, Nutrition, Exercise and Minimizing Toxins. Dr. Jo loves to give to the Denton community and often gives back through donations and volunteering around the DFW area. We'd love to help you achieve your health goals!
  Print & Fill out: Adult Patient Paperwork in English or Español   Print & Fill out: Pediatric Patient Paperwork in English or Español
CONTACT US
FOR MORE INFORMATION
Hours of Operation
Monday:

8:30 am – 10:15 am 4:00 pm – 6:00 pm

Tuesday:

Closed

Wednesday:

8:30 am – 10:15 am 4:00 pm – 6:00 pm

Thursday:

4:00 pm – 6:00 pm

Friday:

8:30 am – 10:15 am

Saturday:

Closed

Sunday:

Closed
About
Texas Sunset Family Chiropractic – Denton, TX
Meet The Team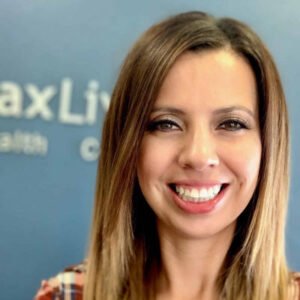 Dr. Jo Ann Melendez, D.C.
Doctor of Chiropractic
From Dr. Jo Ann:
Growing up constantly sick, I was under the impression that was just normal for me and I'd have to accept it. I spent many years battling allergies, fatigue, and severe recurring migraines. My allergies were always so bad that as a kid I just refused to go outside because the medications would stop working and I'd end up crying with the itchy eyes and nose. They always said it was normal and I cycled through allergy meds; Zyrtec, Allegra and Benadryl because they would always stop working.
I was in my first year of undergraduate school, then one day I ended up with a severe migraine and ended up with a diagnosis of a subdural brain bleed. From that day after I suffered with migraines for years, cycling through migraine and pain medications. Someone recommended chiropractic, I started getting adjusted and my migraines disappeared after only one month, forever. When I started getting adjusted I found out I had a reversed curve in my neck. With regular adjustments and applying the essentials of MaxLiving, I was able to regain my health, get off all my medications and allow my body to finally start functioning the way it is supposed to.
I finally had hope and felt I had to share that with others. I felt led by God to pursue a career as a chiropractor to have the opportunity to empower and encourage others to regain their health, to reach their full potential in life, and not be held back by a diagnosis. My mission is to help every person I meet to fulfill the life they were called to and help to inspire people to live a life of health rather than sickness. The movement of MaxLiving is striving to change the way people view and manage their health through the delivery of 5 essentials of health. My team and I are grateful to be in Denton and look forward to helping every person and family we meet to achieve his or her highest potential of health.
We exist to empower people to rise and receive God's hope, healing and love abundantly.
In Health, Dr. Jo Ann Melendez, DC Your MaxLiving Doctor of North Denton, TX
Our Services
Our Services
At Texas Sunset Family Chiropractic in Denton, we are a bilingual and multi-cultural office, where our goal is to deliver personalized care to people of all ages and backgrounds. Our team provides a high-energy and positive environment, where hope and enthusiasm for serving you is our highest priority. We value each patient's unique needs and health goals and strive to provide education and services that are relevant, inspiring, and personally applicable. Here at our MaxLiving Denton office, you will find a variety of customized experiences including:
Advanced spinal correction chiropractic care
Personalized spinal exercises & rehabilitation
Advanced x-ray analysis (if needed)
Specializing in care for adults, pediatrics, seniors, and expectant mothers
Customized nutrition plans
Customized detox protocols
In-office MaxT3 workouts – for all levels, in a judgment-free zone!
Seminars & Workshops designed to meet your needs, from nutrition & weight loss, to goal setting, immune system, heart health, children's health, detoxification, and more!
Shop with the Doc grocery store tours at our local Sprouts and Costco
Reviews
This clinic is owned and operated by Texas Sunset Family Chiropractic, a MaxLiving
Health Center