Smith Family Chiropractic
At Smith Family Chiropractic, spinal care starts with an in-depth chiropractic assessment and chiropractic examination to accurately identify the source of the chiropractic misalignment. When the chiropractic root of the problem is identified and treated with professional Austin chiropractic care, your body can start to heal. It's an Austin chiropractic path to maximum overall wellness with our Austin chiropractor.
Services
Examination
The first step in stimulating the body's ability to heal itself is to provide you with an accurate diagnosis. At Smith Family Chiropractic in Austin, your exam will include a full neurological and orthopedic exam. In addition, a thermal scan of the spine to identify instability.
Dr. Smith will explain the results of the exam to you and answer any questions you may have. Patients will be provided an individualized treatment plan for long-term results which will include expert chiropractic care. It will also include guidance in things you can do at home and lifestyle changes that can make a difference in your long-term health.
Expert Spinal Correction
Dr. Smith's central focus of your care is an expert in spinal correction. Spinal misalignment interferes with communication between the body's systems, and our chiropractic care precisely and gently corrects any misalignment you're experiencing.
Chiropractic care is an essential approach to natural wellness and an important part of working toward optimal health. The team of experts at Smith Family Chiropractic are highly trained and experienced in spinal correction techniques and wellness care.
Exercise Tips and Techniques
Smith Family Chiropractic in Austin, TX wants all of their patients to be healthy from the inside out. While spinal correction can correct subluxations, exercises can be key to strengthening your muscles. You'll be given specific exercises to do which are designed to target the muscles that support the spine.
Guidance in Lifestyle Changes
Chiropractor, Dr. Smith believes in helping patients understand the things they need to do in order to attain optimum wellness. A well-rounded treatment plan for optimal health includes not only spinal correction but also guidance in lifestyle changes. This includes good nutrition, a positive mindset, and minimizing toxins.
Smith Family Chiropractic offers important information on improving their patient's overall health. This includes free workshops on health-related topics such as stress management and nutrition. They strive to help you attain long-term results by changing your approach to health. Come to Smith Family Chiropractic MaxLiving Health Center and find out the difference chiropractic care can make for your life.
NEW PATIENT
SPECIAL
$40 CONSULTATION
Hours of Operation
Monday:

7:00 am – 10:30 am
2:30 pm – 5:45 pm

Tuesday:

2:30 pm – 5:45 pm

Wednesday:

7:00 am – 10:30 am

Thursday:

2:30 pm – 5:45 pm

Friday:

7:00 am – 10:30 am

Saturday:

Closed

Sunday:

Closed
About
Smith Family Chiropractic – Austin, TX
Meet The Team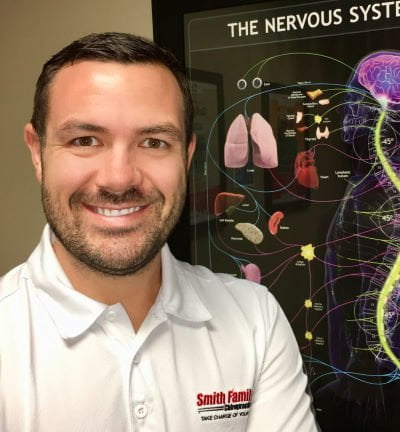 Dr. Brent Smith, D.C.
Doctor of Chiropractic
Western States Chiropractic College
Chiropractor, Dr. Brent Smith in Austin, TX is a graduate of Western States Chiropractic College. Dr. Smith opened Smith Family Chiropractic in Austin in 2009. The practice is located in the neighborhood next to The Park at Monterey Oaks and Shops at Arbor Trails. Smith Family Chiropractic has delivered over 102,137 chiropractic adjustments to the residents of Austin and surrounding towns.
Dr. Smith believes in having a holistic chiropractic approach. The Austin chiropractor's goal is to provide high-quality chiropractic care in Austin while at the same time empowering you with his knowledge and healing so that you can work toward being as healthy as possible in Austin.
For the past eleven years, Dr. Smith has practiced here in Austin, TX working to improve the health and quality of life for all of his patients. The Austin community is important to him, and he helps a variety of people in the area who are undergoing health challenges including surgical patients both before and after surgery and those going through cancer recovery.
Some of his other accomplishments include serving on the Wellness Advisory Board for four US Olympic teams, and he's attained certification in nutrition. He regularly hosts free workshops on health-related topics to share his knowledge of what it takes to lead a healthy lifestyle.
Chiropractic is a health care profession which performs adjustments to the spine or other parts of the body. The goal is to correct alignment problems, ease pain, and support the body's natural ability to heal itself.
Blog
Reviews
This clinic is owned and operated by Smith Family Chiropractic, a MaxLiving
Health Center