Smith Family Chiropractic
At Smith Family Chiropractic, we are more than a quick fix for back and joint pain. We strive to change the way people view and apply their health. Our focus and our goal is to teach our patients how to live well throughout the duration of their lives, avoiding medications and avoiding surgeries. It is more than helping our patients feel healthy; we want them to BE healthy from the inside out.
Each patient that walks in our doors receives a full neurological and orthopaedic exam as well as a thermal scan of the spine to find where the instabilities occur. Once we have established a plan to correct the subluxations, our patients are given specific exercises that are designed to target and strengthen the muscles that support the spine in order to keep the bones from shifting out of place after each adjustment.
NEW PATIENT
SPECIAL
FREE CONSULTATION
Hours of Operation
Monday:

7:00 am – 9:45 am
3:00 pm – 5:45 pm

Tuesday:

3:00 pm – 5:45 pm

Wednesday:

7:00 am – 9:45 am

Thursday:

3:00 pm – 5:45 pm

Friday:

7:00 am – 9:45 am

Saturday:

Closed

Sunday:

Closed
About
Smith Family Chiropractic – Austin, TX
Meet The Team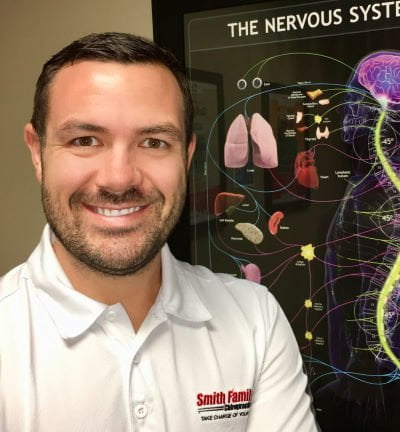 Dr. Brent Smith, D.C.
Doctor of Chiropractic
Western States Chiropractic College
Originally from Seattle, WA, Dr. Brent Smith received his accreditations as a Doctor of Chiropractic from Western States Chiropractic College. He has been in practice in Austin, TX for 9 years and has dedicated his life to improving the quality of life for all of his patients. He is on the Wellness Advisory Board for four US Olympic teams and helps numerous patients with post cancer recovery as well as helping patients with pre and post surgical situations.
Dr. Smith is certified in nutrition and regularly hosts free workshops on topics that vary but aren't limited to stress management, essential oils, nutrition plans, workout regimens,etc.
In his spare time, Dr. Smith enjoys watching football, working out, and spending quality time with his two young sons, Noah and Palmer.
Blog
Reviews
This clinic is owned and operated by Smith Family Chiropractic, a MaxLiving
Health Center