f
Peacock Family Chiropractic
We believe that being a MaxLiving chiropractor is more than someone who just helps people feel healthy. Through high-quality chiropractic and corrective care, combined with the 5 Essentials™, we're here to empower patients with both knowledge and healing. Trust that your health is in expert hands.When we wake up everyday, we seek to serve our community, love our patients, and transform quality of life! We love what we do. It's the best "job" ever! Honestly though, it doesn't feel like a "job." It's a purpose.
We are hiring! If you have any friends or family who might be interested, please share this page with them!
Adult Patient Paperwork
 Pediatric Patient Paperwork
$35
NEW PATIENT
SPECIAL
EXAM
X-Rays $100
Hours of Operation
Monday:

8:00 am – 10:00 am 3:30 pm – 6:00 pm

Tuesday:

3:00 pm – 6:00 pm

Wednesday:

8:00 am – 10:00 am 3:30 pm – 6:00 pm

Thursday:

3:00 pm – 6:00 pm

Friday:

8:00 am – 10:00 am

Saturday:

9:00 am – 10:00 am (by appointment only)

Sunday:

Closed
About
Peacock Family Chiropractic – Fishers, IN
WHAT WE DO? We're a MaxLiving Health Center. We're part of over 500 offices across the nation on a movement to help transform the mindset & health of people through the 5 Essentials: having a positive mindset, great chiropractic care, quality nutrition, exercise, and minimizing toxicity.
WHO ARE WE? We're currently a team of 3 just ordinary people with a big vision. We're super passionate about making a difference each day that we are given! Yes, that may sound cheesy. But we like cheese (the organic kind).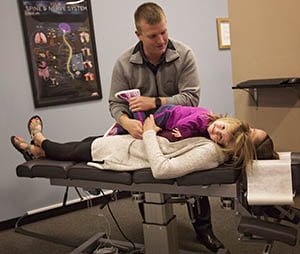 Dr. Kyle Peacock is from the Indianapolis area. He serves at his alma mater, Mt. Vernon, as the team chiropractor for wrestling and tennis. He traveled to Rio this August to support our USA Wrestling team with fellow MaxLiving Chiropractors! He adjusts hundreds of patients every week at our office & is certified in spinal correction. He serves all ages from little babies to elderly adults. He helps people through chiropractic resolve their pain, increase their range of motion, lower blood pressure, boost their immune system, prevent & reserve disease in their body! So, typically start patients under a corrective phase of care, and then most choose to continue lifetime wellness chiropractic care in our practice!
Dr. Kyle leads our team to both serve our patients inside our four office walls and serve outside in our community! We are very active in the community at expos, networking events, and providing wellness talks for local schools and businesses!
Chiropractic Care
We offer chiropractic care for children, elderly, during pregnancy, spinal correction for sports, scoliosis reduction, and health conditions such as neck pain, back pain, headaches, and sciatica.
Team
Meet The Team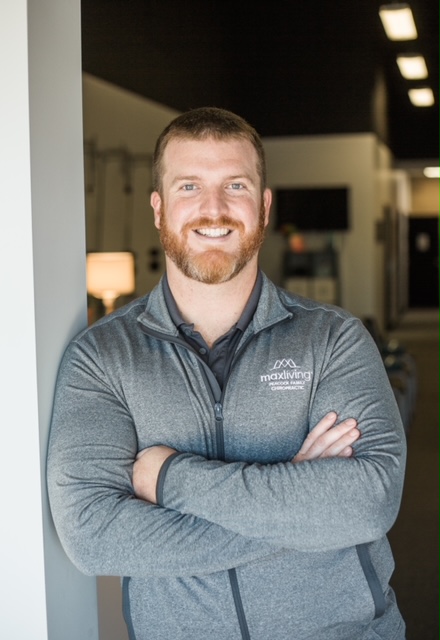 Dr. Kyle Peacock
Chiropractor
Dr. Kyle is the owner and chiropractor of Peacock Family Chiropractic. He has been serving the Fishers, Indiana and surrounding community since 2014. Prior to opening his own office, Dr. Kyle earned his bachelors in biology from Olivet Nazarene University and completed his Doctor of Chiropractic Degree at Logan University in St. Louis, Missouri. He then worked as an associate doctor of chiropractic in a handful of MaxLiving chiropractic offices around the United States.
Dr. Kyle not only cares for hundreds of patients every week in his office, but he also enjoys providing health and wellness workshops for patients, businesses, churches, and schools. He has donated his time to adjust Mt. Vernon wrestling and tennis athletes, several Christian bands including Big Daddy Weave, the SideWalk Prophets, and travelled in 2016 to the Rio Olympics with a team of MaxLiving chiropractors to care for the USA Wrestling team! Dr. Kyle has been highlighted in the Fishers current, Greenfield newspaper, and national MaxLiving magazine. Most importantly, Dr. Kyle is a genuine, caring, and skilled chiropractor.
He has earned additional certifications in spinal correction and consistently trains with top chiropractors from around the nation, including Dr. Tony Nalda, Dr. Greg Loman, and Dr. Ben Lerner. When Dr. Kyle is outside of the office, he enjoys grilling, fishing, exploring nature trails with his beagles, board games, and family time.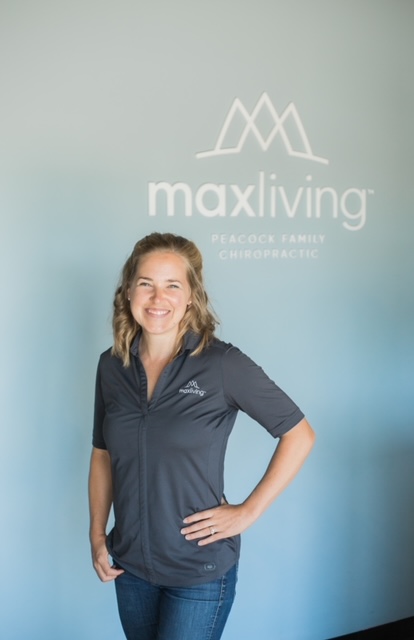 Kelsi Peacock
Office Manager
Kelsi Peacock is our office manager, community outreach coordinator, and wife of Dr. Kyle Peacock. She's your point person for scheduling a lunch and learn for your business, school, or church. She assisted Dr. Kyle in opening the office in 2014 and has really enjoyed working with the greater Indianapolis community ever since!
Though her bachelors degree is in Music from Olivet Nazarene University, upon graduation, she was selected to be a part of Teach For America. So, she earned her secondary mathematics teaching certificate, and taught for 4 years at Soldan International Studies high school in St. Louis while Dr. Kyle was earning his doctorate of chiropractic. She now holds her chiropractic assistant x-ray tech certificate as well to assist in taking x-rays for patients. When Kelsi is not in the office, she enjoys training for Spartan obstacle course races, doing DIY crafts, quilting, spending time with their two pups and large extended family.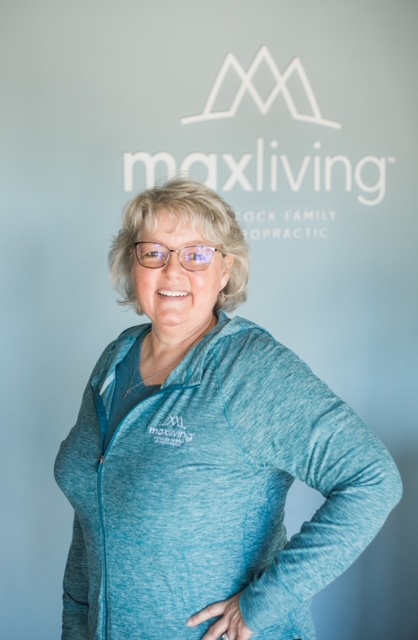 Becky Farley
Chiropractic Assistant
Becky is a retired teacher (20 years) that fell in love with chiropractic care when her daughter dislocated her shoulder while competing at a swim meet when she was twelve. Becky's whole family now loves chiropractic. Becky's husband's name is Kyle, the COO of Now Courier. Her golf loving son is Benjamin, and his lovely wife, Jasmine live in Texas. Her daughter, Erin is now working for a fellow MaxLiving office in northwest Indianapolis!
Becky will be the one to welcome you and get you started with posture analysis before Dr. Kyle meets with you for your exam. Then, she'll take any x-rays you need. She handles everything on the floor, which includes exercises, homecare, and supplements. Any questions you have about your care, she is happy to help you.
We're also looking for a new Patient Care Coordinator to join our team. To see more information click HERE to see the job information.
Reviews
This clinic is owned and operated by Peacock Family Chiropractic, a MaxLiving
Health Center