Bold City Chiropractic
Our chiropractor's mission is to restore hope and provoke change to allow people to reach their God-given potential. Our vision is a community living their best life through an intentional focus on health.
$168
NEW PATIENT
SPECIAL
Exam, Imaging, Adjustment, & Review.
Hours of Operation
Monday:

7:30 am – 10:30 am
2:30 pm – 6:00 pm

Tuesday:

2:30 pm – 6:00 pm

Wednesday:

11:00 am – 2:30 pm

Thursday:

2:30 pm – 6:00 pm

Friday:

7:30 am – 10:30 am

Saturday:

Closed

Sunday:

Closed
About
Bold City Chiropractic – Jacksonville, FL
Meet The Team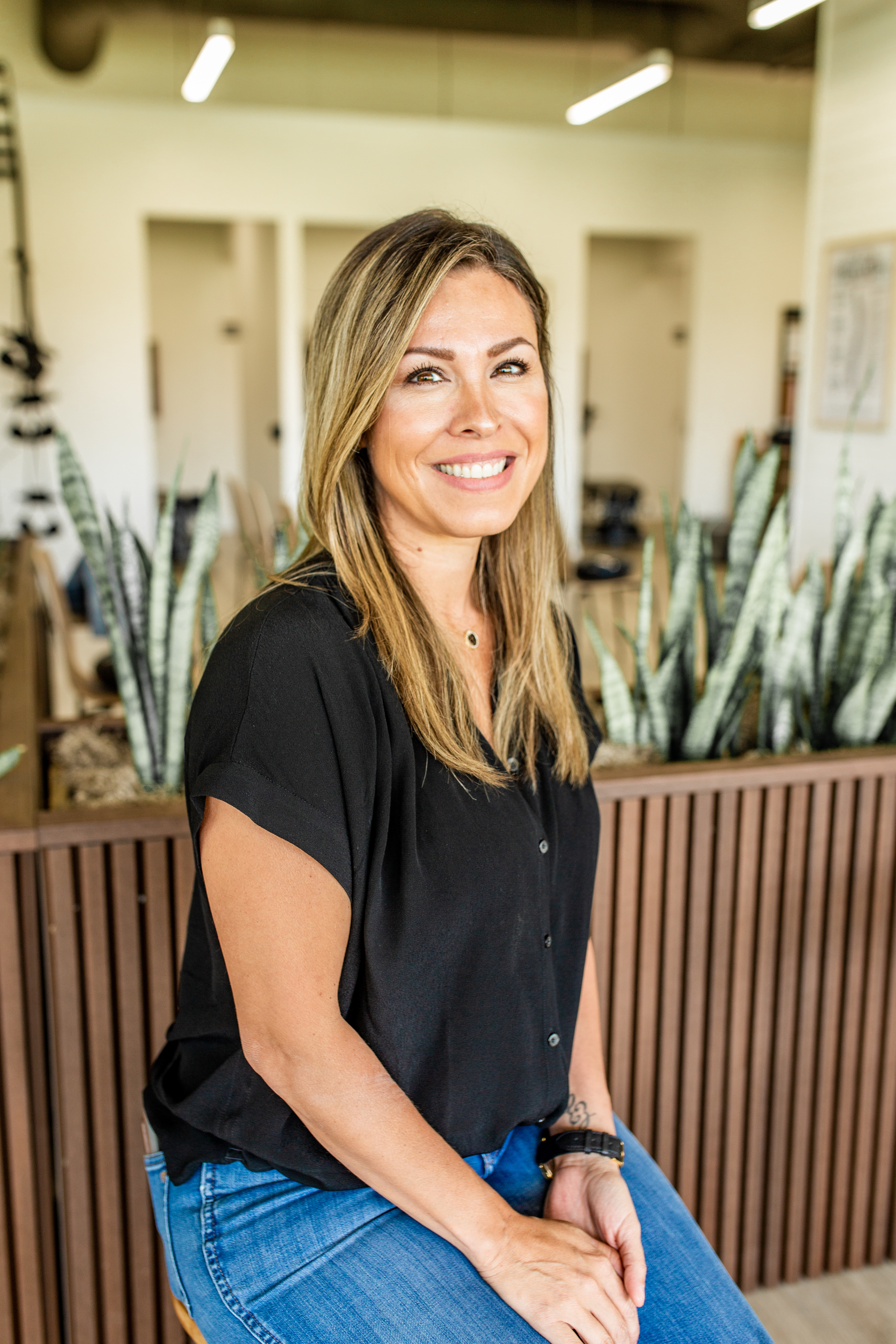 Dr. Erin Zovath, D.C.
Chiropractor
Palmer College of Chiropractic
Dr. Erin Zovath graduated with a bachelors degree in Biomedical Science from the University of South Florida and continued on to receive her doctorate from Palmer College of Chiropractic. Upon graduating from Palmer, she worked in Celebration, FL; receiving advanced training from the largest health clinics in the country in chiropractic spinal correction, nutrition, exercise and toxicity.
Dr. Erin has overseen the care of patients of all ages, from mere minutes old to 102 years of age! She truly understands the meaning of lifelong health and is deeply committed to helping each patient achieve it. She teaches a variety of chiropractic health workshops to groups ranging from large corporations to local businesses, churches, schools and other organizations.
Born and raised in Appleton, WI, Dr. Erin moved to Bradenton, FL during high school. She has danced her entire life, competing nationally and professionally for the Tampa Bay Storm. She met her husband, Zach, while in high school and had their son, Jude, shortly before receiving her Doctorate Degree. As her passion to help others through the 5 Essentials of MaxLiving has expanded, her family has also grown to include their son, Ezra, daughter, Moxie, and twins, Archer and Miles.
This being the first time in two centuries the current generation of children in America may have a shorter life expectancy than their parents, Dr. Erin and her husband have made it their mission to change the way the community views and manages their chiropractic health, both physically and mentally across all generations.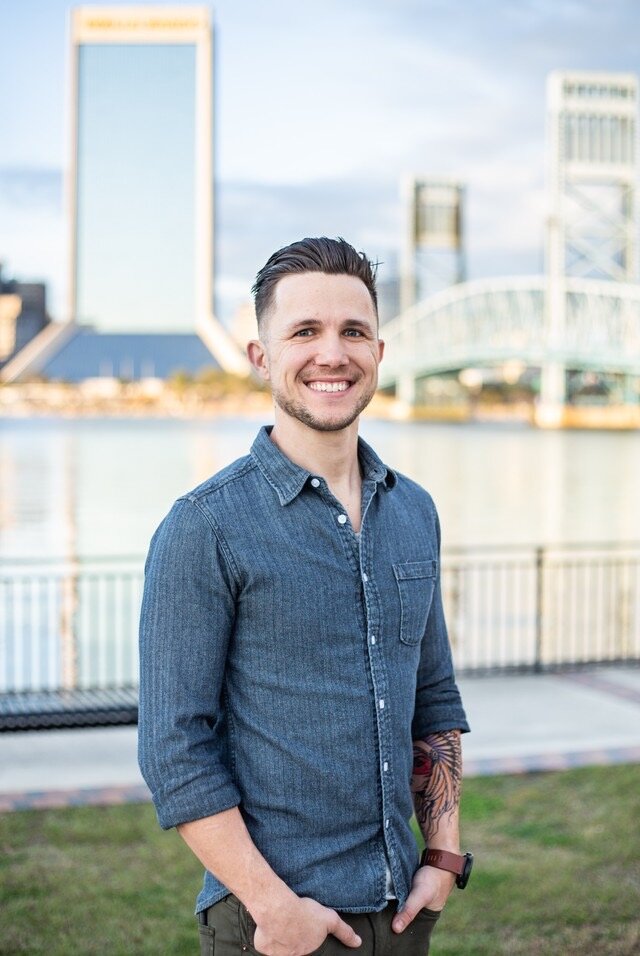 Zach Zovath
Owner & Fitness Coach
Zach was born and raised in Sarasota, FL and is the eldest of three boys.
He graduated with a bachelor's degree in Exceptional Education from the University of Central Florida in 2010 and continued on to receive his master's degree from the college of Education and Human Performance at the University of Central Florida in 2012. While completing his master's degree, he worked for several charter schools developing adaptive physical education curriculum for children with special needs.
In 2013, his career path changed and he became business owner of Bold City Health alongside his wife, Dr. Erin Zovath. Using his education, teaching experience, and training he gained from also working in the health and fitness industry, Zach is able to easily push and coach our Bold City Health patients in their fitness journeys. Zach learned he has a unique ability to push others to accomplish things they didn't think was a reality.
An avid reader, Zach reads several books every month from health & fitness, to personal development, to fiction. Also an avid runner, Zach competed in the Daytona 100 in December 2022, reaching over 70 miles before a stress fracture in his foot forced him to drop out of the race. Although hindered from his goal of finishing 100 miles in 24hrs, Zach plans on competing in 2023 and completing the full 100 miles. Not one to shy away from difficult things, Zach is always challenging his body, mind & spirit to do things that are uncomfortable.
Zach enjoys being a full time dad with five kids at home, and sets a health-based example for the generation he's raising and the one that comes after.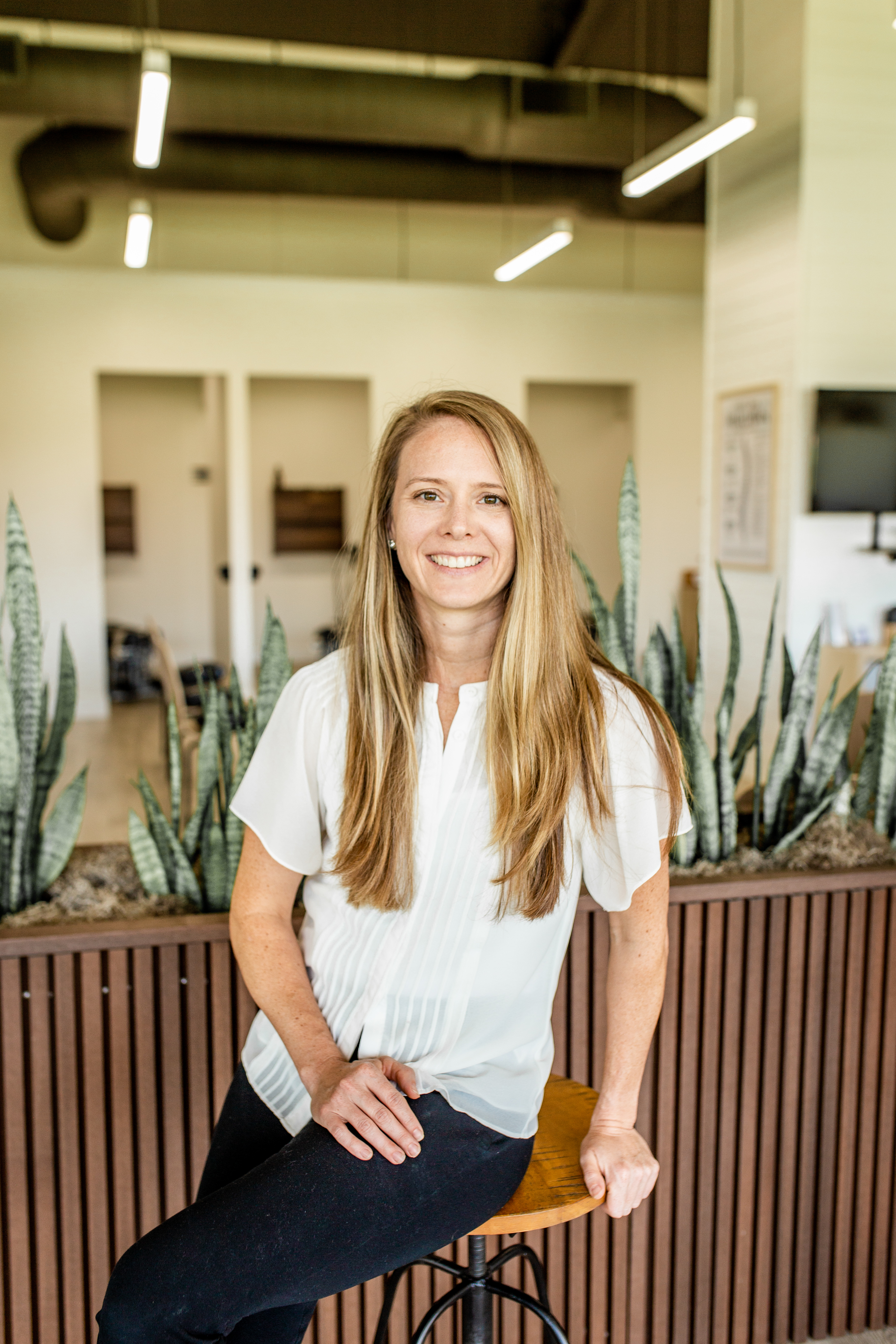 Dr. April Swanstrom
Chiropractor
Palmer College of Chiropractic
Born in Jacksonville, FL, Dr. April grew up running track, cross-country, swimming, & cycling. She was also a lifeguard for the city of Jacksonville.
Dr. April bleeds orange and blue, gaining her bachelor's in health science from the University of Florida in 2012. GO GATORS! After shadowing a family based chiropractor, Dr. April decided that she would pursue chiropractic and obtained her degree at Palmer College of Chiropractic in 2015. She's also certified in Myofascial Release Technique, as well as Webster's Technique, and specializes in Pediatric & Perinatal care.
In 2016, Dr. April was hired onto the Bold City Health team when Dr. Erin was pregnant with her second child, Ezra. She went from adjusting her normal client base of 20 patients per week to our almost 500 patients per week.
Something unique about Dr. April is that she is an identical twin, so you may have seen her sister, Ashley, in office (it confuses everyone!). Since 2012, Dr. April has been heavily involved in the Cross Fit community and has done local competitions. Her free time is mostly spent with her puppy, Grizzly, and family.
Dr. April's favorite part of being a chiropractor is being able to ground people in having full confidence that their bodies were made perfectly and created to heal, and she enjoys adjusting babies and supporting mothers through pregnancy and postpartum.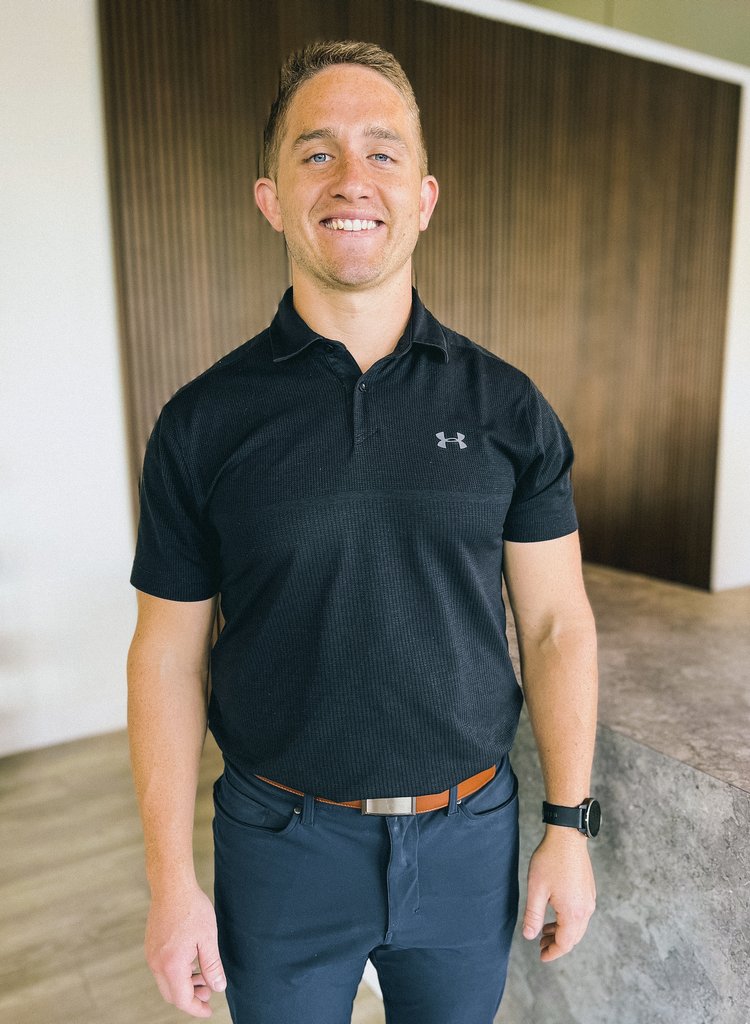 Dr. Logan Emholtz
Chiropractor
Life University
Dr. Logan grew up in River Falls, Wisconsin, where he and his wife, Breanna, met in kindergarten, began dating during high school, and married in 2019. Four months ago, he and Breanna welcomed their first child, Hayes, into their family and he has been a huge blessing to their lives.
Growing up being very athletic & involved in multiple sports, Logan played football for Carleton College in Minnesota, where he earned his Bachelor's degree in Biology, and continued his education, pursuing his Doctorate of Chiropractic at Life University in Atlanta, GA. He joined the Bold City Health team in October of 2022 during his preceptorship, and became an official associate doctor in April 2023.
Something very unique about Dr. Logan was that he grew up being adjusted weekly since birth because his grandpa, Gerald Emholtz, was also a chiropractor! Logan remembers his grandpa fondly and regards him as the inspiration that led him to switch career paths, deciding to go from studying to be a medical doctor to a doctor of chiropractic.
Working with kids and families is Dr. Logan's favorite part of being a chiropractor, because the biggest impact is changing the health of generations for the better.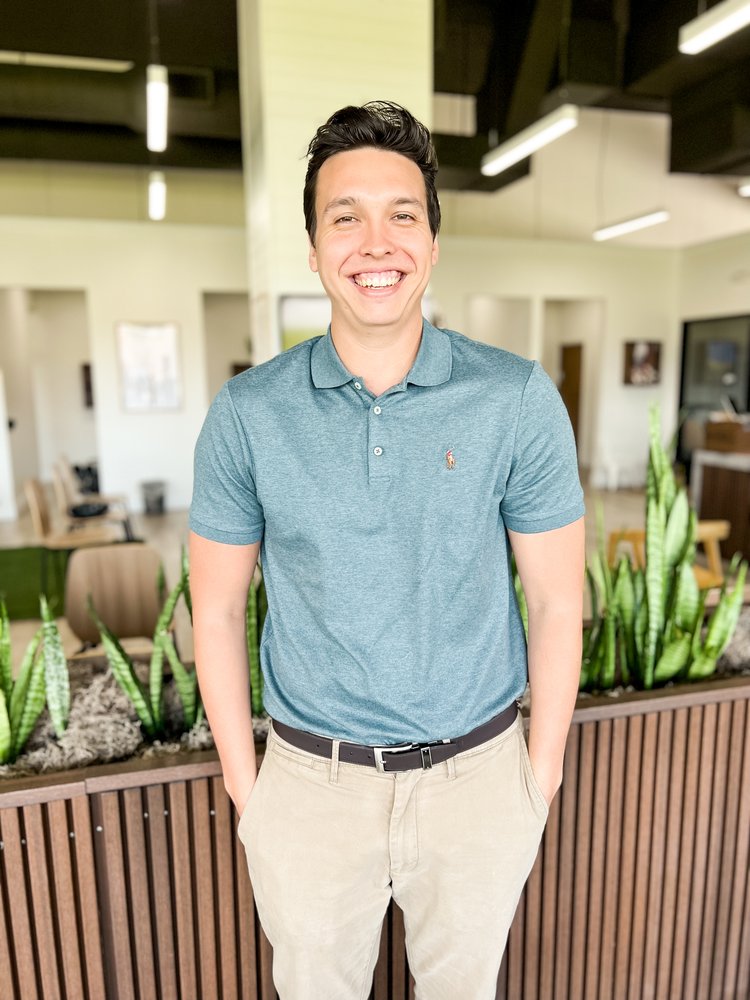 Dr. Jordan Dufrane
Chiropractor
Palmer College of Chiropractic
Dr. Jordan grew up in Bradenton, FL, but also has roots in Wisconsin. He has also lived in Hawaii as well as North Carolina. His sophomore year of high school he met his future wife, Alexis, and they married in 2022. Two months ago, they welcomed their precious baby girl, Estella into the world.
Graduating from the University of Wisconsin Whitewater in 2019 with a bachelor's degree in Pre-Medicine, he chose to further his education in Chiropractic. This decision ultimately hinged on him seeing the success of his sister, Dr. Erin Zovath, in serving and loving the patients at Bold City Health. And in December of 2022, Dr. Jordan graduated from Palmer College of Chiropractic. During his preceptorship, he was specially trained by the nation's top doctors in spinal correction, and joined the Bold City Health team in January 2023.
When Dr. Jordan isn't serving patients and the community, he loves spending his days outdoors with his family and dog, Luna.
His favorite part of being a chiropractor is meeting new people, hearing their stories, and restoring hope in their body's innate ability to heal.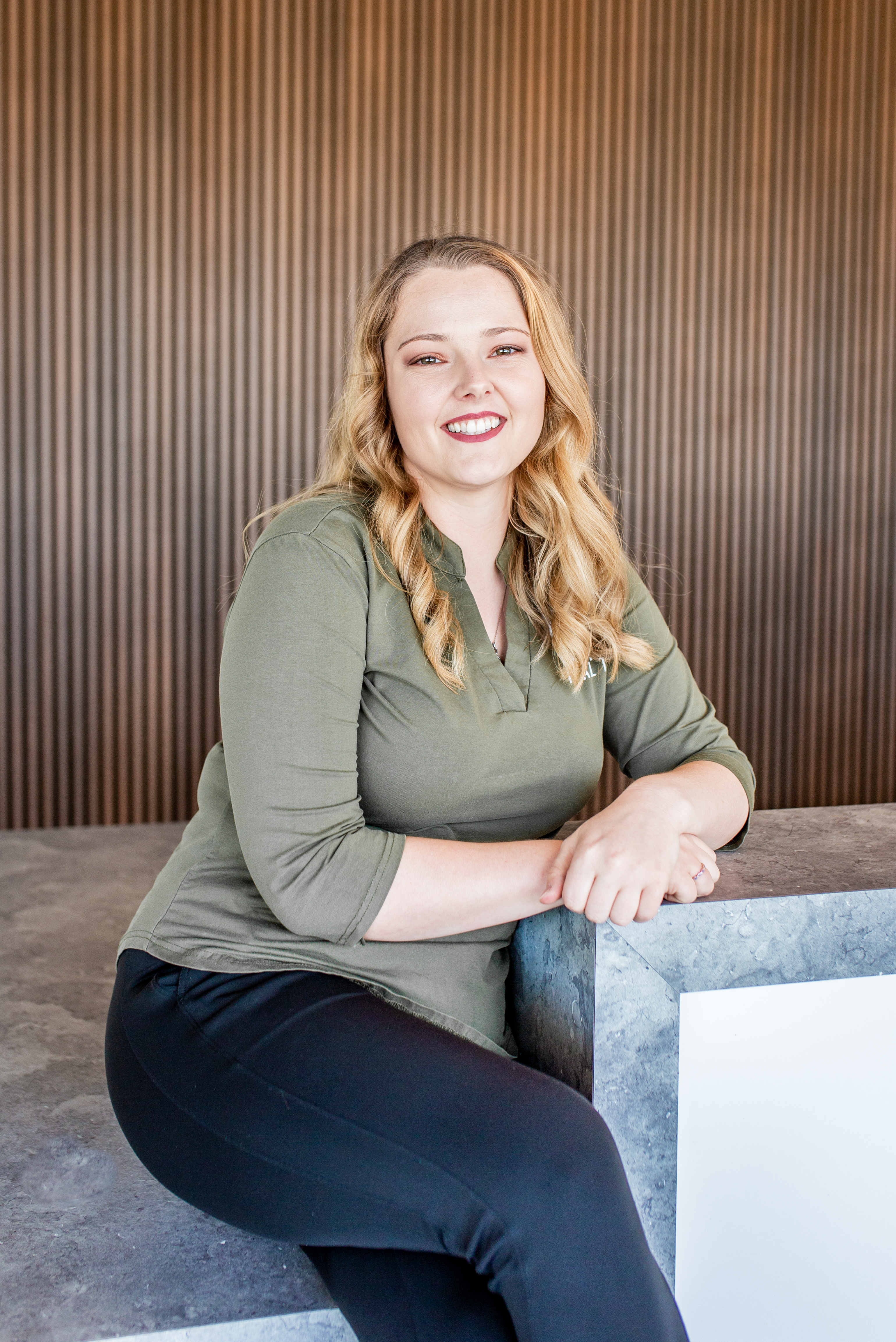 Samantha Kinas
Office Manager
Raised in the small town of Gilman, WI (Pop. 410), Sami spent her time growing up playing softball & volleyball. From working as a server at a local restaurant to interning at a Horse Camp for special needs children, to being a flight attendant, Sami has never had trouble filling her time.
After graduating in 2015 with a degree in psychology, she moved to Jacksonville with her dog, Kiara. Initially, Sami's goal was to attend grad school for a degree in physical therapy; thankfully, that goal was never fully realized. She now feels extremely fulfilled leading the team at Bold City Health as Office Manager since being welcomed onto the team in October 2020. Originally, Sami came into Bold City Health as a patient. After years of debilitating migraines, Sami was placed on a spinal corrective plan and after one month of adjustments she was migraine free. She loves telling new and current patients about the power of chiropractic.
Sami is a serial opportunist and enjoys exploring her own entrepreneurial inclinations and hopes to own her own business one day. If forced, she will admit she knows far too much about elephants. In her free time, Sami enjoys relaxing with her boyfriend, Marc, playing with dogs, Kiara & Starr, reading, and planning her future travels abroad. Currently, Sami is participating in one new physical challenge a month, one challenge she completed was competing in a USA powerlifting competition.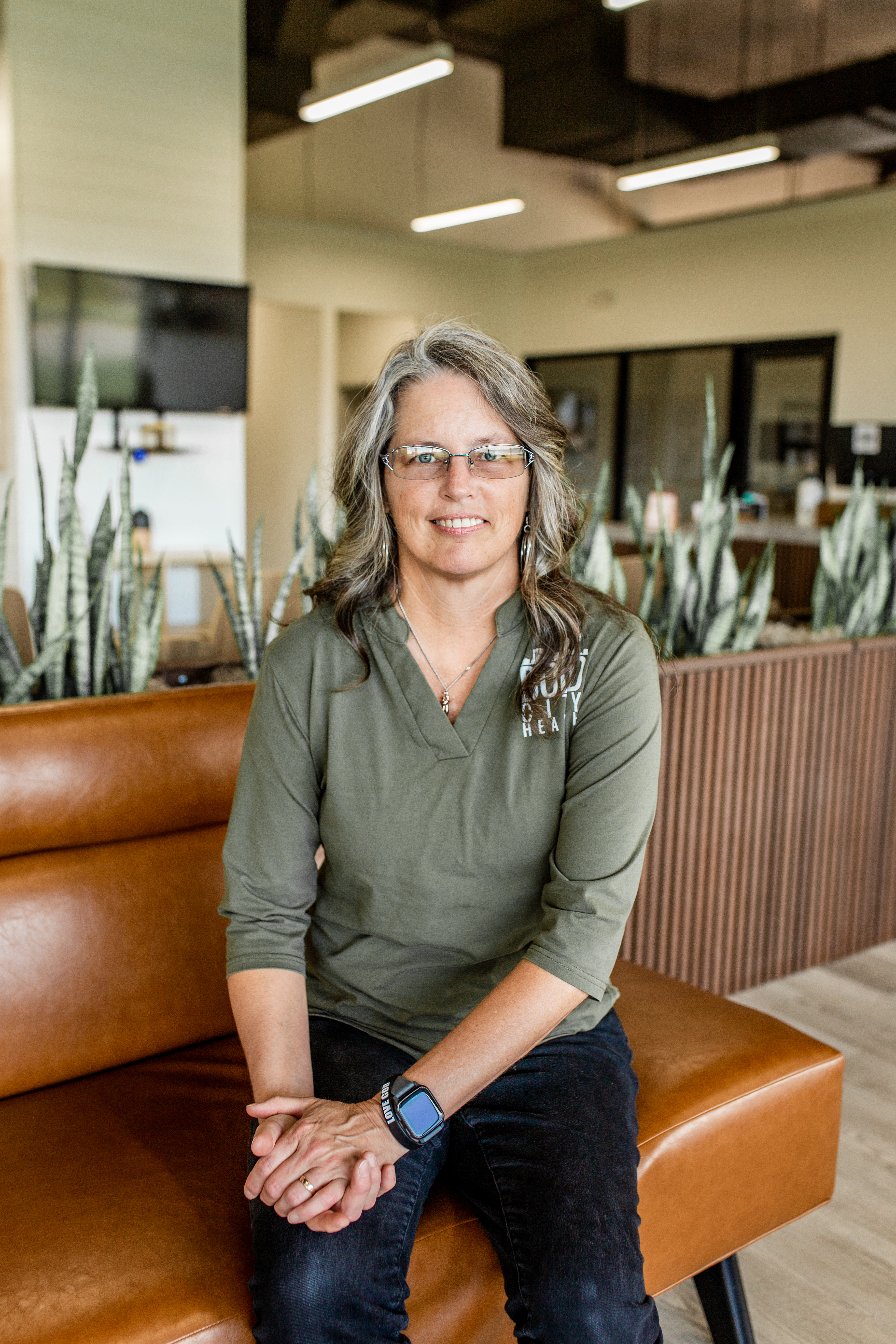 Peggy Motil
Events and Outreach Liaison
Peggy has lived her adult life in Jacksonville, FL, but is originally from Kentucky. She is the second oldest of three siblings. Peggy met her husband & best friend, Scott, during high school and married him in 1987. In 1989 they welcomed their first child, Scott Jr., and four years later their second child, Katie.
Peggy spent years struggling with health issues and was diagnosed with Hashimoto's and Fibromyalgia. Desperate to not become a human pin cushion at Mayo Clinic, Peggy sought relief from the brain fog and painful irritation she lived with by taking 50 different supplements a day to feel some semblance of normalcy. A friend of her daughters recommended she go see her chiropractor at Bold City Health. So, in June of 2015, Peggy became a patient and began getting adjusted consistently and following the 5 Essentials. She overhauled her health in such a large way she now no longer lives with the diseases doctors said she could never recover from. With her hope and health restored, she was able to return to activities she loved, like camping with her family, and bike rides on the beach.
Peggy joined the Bold City Health team in December of 2015, and now helps with outreach & events. Peggy passionately shares the word about the body's God-given ability to heal, and helps others overcome their limiting beliefs.
In her free time, Peggy can be found reading the bible daily and has even taken Hebrew classes to dig deeper into God's word. She also loves riding motorcycles with her husband, as well as serving her church's congregation and leading small groups throughout the week.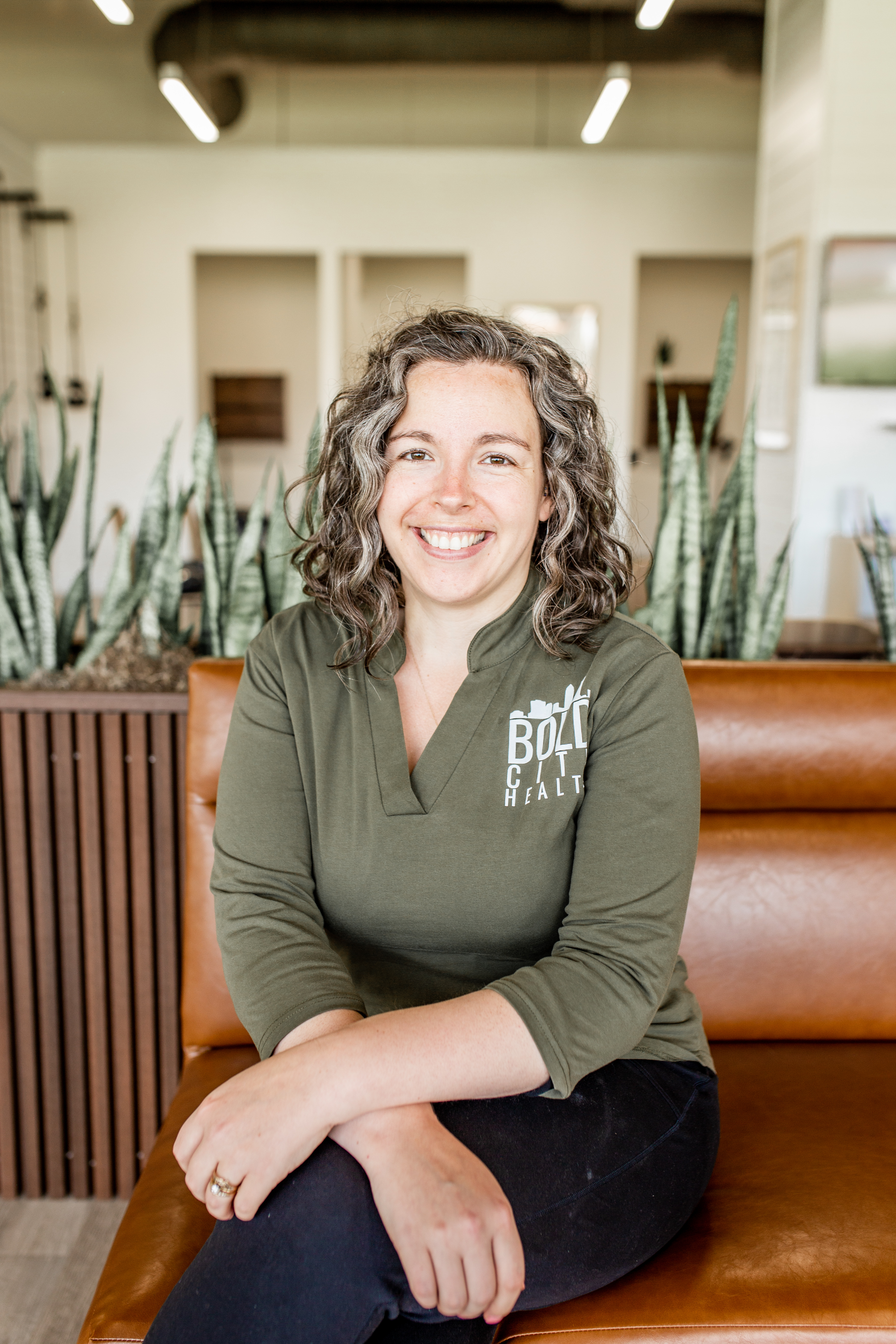 Blakelee Motil
Tech CA
Western Oregon University
Originally from Oregon, Blakelee moved to Jacksonville, FL in November of 2014. She graduated from Western Oregon University with a BA in English Literature and a minor in writing in 2011. From 2018-2019, through Sherman Chiropractic College, she attended additional intensive courses to become a Certified Chiropractic Physicians Assistant (CCPA), and in July of 2020 obtained her license to x-ray (BMO).
Her own health journey began in 2007 by joining Weight Watchers with her mother when she was significantly overweight her senior year of high school. Since then, she has lost over 60 pounds. Most importantly, after joining her MaxLiving team at Bold City Health in June of 2015, has learned to love herself—mind, body, & spirit.
Growing up, Blakelee loved being in the water, as a result, from ages nine to seventeen she was also a synchronized swimmer. Blakelee is passionate about cooking & baking, and loves experimenting in the kitchen. In September of 2020, Blakelee married Scott Motil Jr., and they enjoy spending their free time camping and cuddling their two cats, Kala & Bunni.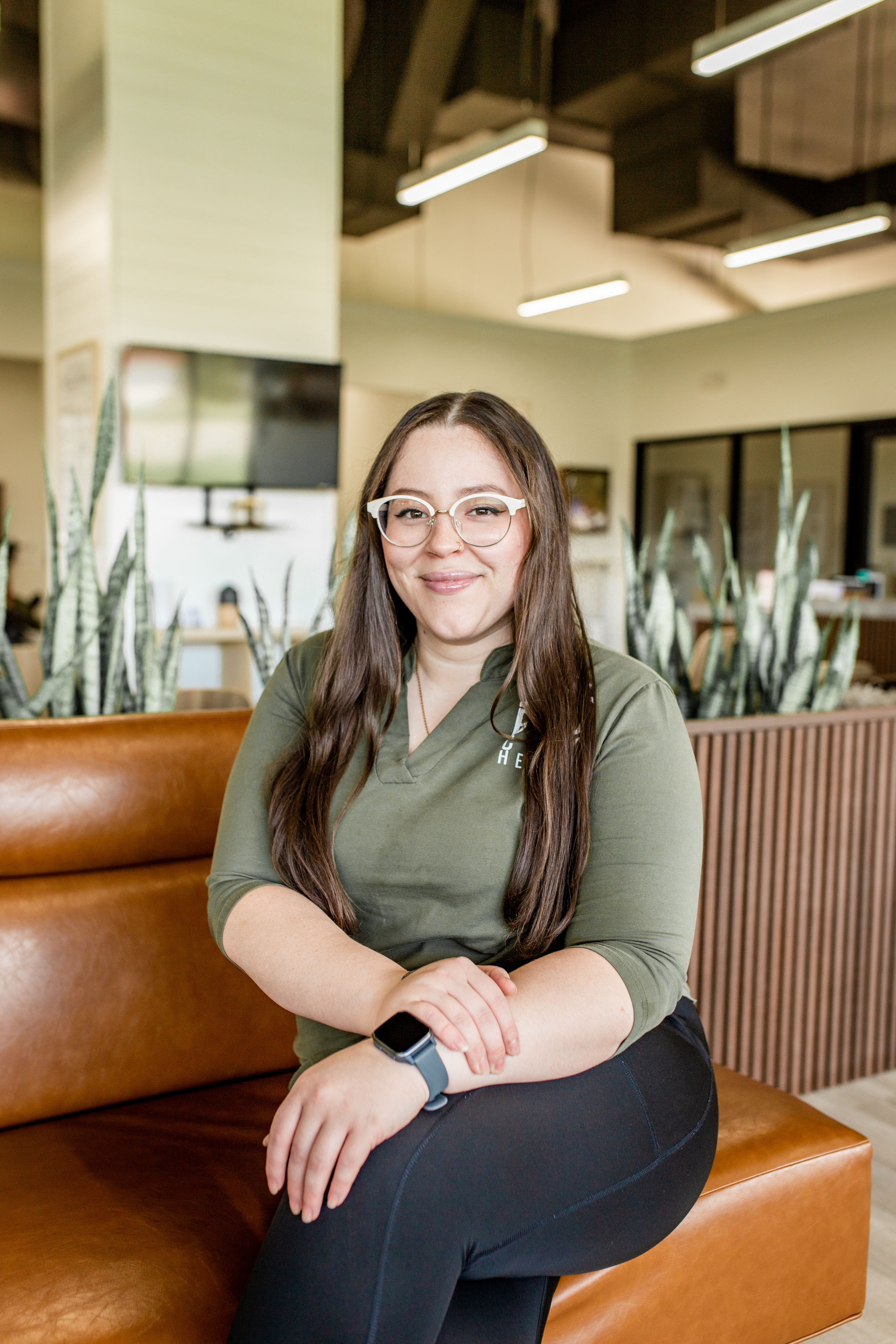 Desiree Garcia
Patient Care Coordinator
Born and raised in Jacksonville, Desi has one younger sibling, Vicky. Growing up, her favorite pastime was gardening with her grandpa.
After graduating from Englewood High School, she received her Medical Assistant Degree from Fortis College.
Desi's health journey began eight years ago after the stressful and traumatic birth of her first child, Aaden. Since then, she has been blessed with two more children Kenji and Kyng, both of whom were all natural water births.
Desi started as a patient at Bold City Health before she became a member of the team in 2022, and has been able to successfully manage her gallbladder issues both before and after her surgery. She desires to grow more in the holistic medical field and hopes to become more involved in patient exams and potentially obtain her x-ray license. Her favorite part of working at Bold City Health is meeting all walks of life and being able to meet them where they are at and help elevate them to where they want to be.
Although her free time is limited, she enjoys spending time with her sons and creating art.
Lacey Capones
Patient Care Coordinator
Born and partially raised in Jacksonville, FL, Lacey moved to various cities her whole life. From Fargo, ND to Camarillo, CA, she met and gained relationships with various types of people in all walks of life, which grew her passion of caring for others. That passion continued to grow while working as a dietary aid at a senior living community where she learned how impactful a good relationship is with a patient. That understanding aided her journey when she struggled with pre-diabetes and weight gain.
She surrounded herself with her large family of seven, who pushed her past her believed limits, finding herself and God again. She gained her perspective that health is obtained by not only perseverance but having a good support system and strong faith. Happily defeating her health struggles and losing 75lbs, she now has the ability and drive to experience new hobbies she's always been interested in such as golfing, vlogging and running. She has gained the desire to become others' support system, championing them during whatever journey they are facing.
Lacey joined the Bold City Health team in 2023 to continue her passions and health journey. She has welcomed the 5 Essentials into her life to be the best version of herself and help others become the best version of themselves.
Blog
Gut Healing and Immune Supporting Nutrition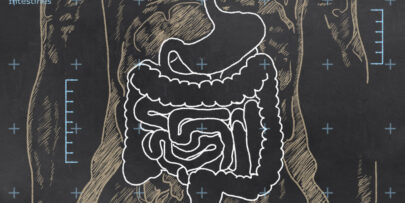 -
Stress on the Immune System When we are under more stress, whether physically, mentally, or emotionally, we must put energy into supporting the immune system. Stressors such as lack of sleep, break in routine, poor diet, lack of physical activity, or known exposure to an infectious agent, can take a toll on our immune system. With the knowledge that the body will focus on survival by adapting to the environment, when we have a stressful outside environment, it will…
Why doesn't a virus affect everyone the same?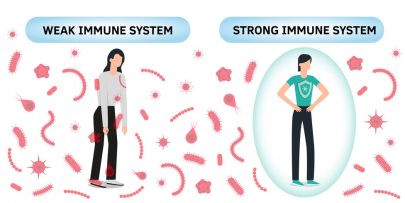 -
If it was as simple as germ x caused disease y, exposure to a germ, such as a virus, would not have such a vast range of outcomes- asymptomatic to death. The cause of disease is best explained as an interaction between germs and the integrity of function of the host (human). Disease does not occur just because there is exposure to a germ, but the loss of cellular integrity (proper function) WITH exposure to a germ. Elevating the…
Screen Time and Your Health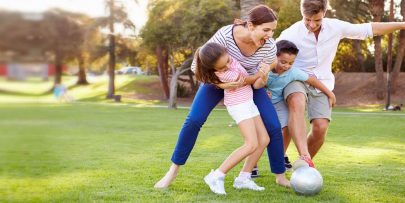 -
Today you can do almost anything from your smartphone, laptop, or television. Whether it's online shopping or watching Netflix, we spend way too much time looking at our screens. There is nothing more eye-opening than receiving that "are you still watching" message come across your screen after watching four straight hours of a new series (we've all been guilty of this!). How Screen Time Affects Heath Spending too much time staring at a screen causes a laundry list of…
Reviews