Hours of Operation
Monday:

8:00 am – 10:15 am 3:15 pm – 6:15 pm

Tuesday:

3:15 pm – 6:15 pm

Wednesday:

8:00 am – 10:15 am 3:15 pm – 6:15 pm

Thursday:

3:15 pm – 6:15 pm

Friday:

7:30 am – 10:00 am

Saturday:

Closed

Sunday:

Closed
About
DeLeon Family Chiropractic – Westminster, CO
Meet The Team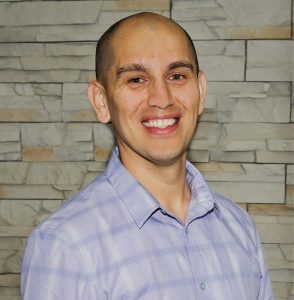 Dr. Carlos DeLeon, D.C.
Doctor of Chiropractic
Texas Chiropractic College
Dr. Carlos De Leon graduated from Texas Chiropractic College where he received his Doctorate of Chiropractic. He has been privileged to deliver world-class Chiropractic care to patients from all walks of life including pregnant mothers, infants, children with autism, and Olympic athletes. He holds certifications in advanced nutrition, detoxification, exercise, advanced spinal correction, rehabilitation, and Webster technique.
His passion is to serve his community in educating and implementing The 5 Essentials of Maxliving so that his patients can achieve their God-given potential and avoid unnecessary suffering.
Dr. Carlos served in the army and served a mission in Chile prior to chiropractic. Now, he enjoys spending time with his family, snowboarding, camping, hiking, and being actively involved, alongside Cindy, at their church.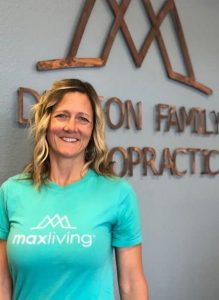 Cindy DeLeon
Office Manager
Cindy has been serving our patients at De Leon Family Chiropractic since the beginning. She is blessed to work with an amazing team that supports amazing patients. The health, healing, and hope that she has seen in the office has been overwhelming. She loves pouring her heart and soul into the lives of those in the community in order to educate and support everyone in learning the importance of the 5 Essentials. Dr. Carlos and Cindy are married with two wonderful daughters: Skyler and Serenity, and their rescue dogs: Roscoe, Rex, and Juno. She loves everything outdoors and physical, snowboarding and volleyball are her favorite exercises and the water is her peaceful spot. She is grateful to God for the blessings of Life, Family, and Health.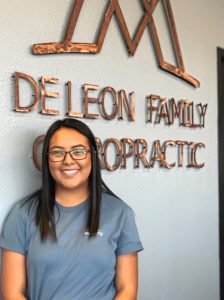 Jothselyn Macias
Chiropractic Assistant
Jothselyn is an integral member of our office and is very excited to be a part of such an amazing team. She is passionate about learning the ways of the chiropractic world and to help the community around her. As well as implementing the importance of the 5 Essentials of MaxLiving and to practice them herself. She enjoys spending time with her family and friends, her dog Taz, camping, and traveling.
Blog
Reviews
This clinic is owned and operated by DeLeon Family Chiropractic, a MaxLiving
Health Center